Sony Ericsson unveils Bluetooth music handsfree HBM-30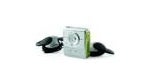 Functioning as digital audio player and wireless handsfree to any Bluetooth-enabled phone, the HBM-30 is capable of playing MP3 and ATRA3, utilizing Memory Stick Duo for music storage. Through Bluetooth wireless technology, it can be connected to any Bluetoothenabled mobile phone and in that way also be used as a handsfree device.
When a call comes in, the music will be muted and the user can choose whether to take the call or not. The display will show the number of the caller when not showing the name of the song playing.
The HBM-30 can also be used without being connected to a phone. Consumers can easily update the music on their Memory Stick Duo by using the music recording function of the HBM-30, or by using their PC. For PCs without Memory Stick drive, there is a wide range of adapters. The HBM-30 comes with high quality stereo headphones from Sony and 64 MB Memory Stick Duo and will start shipping during second half of 2003.