Sony Ericsson to rename the Xperia X3 the X10?
This article contains unofficial information.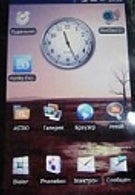 The Sony Ericsson Xperia X3 is one of those handsets that everyone is waiting to see. With the powerful Snapdragon 1GHz processor under the hood, a 4 inch display and the Android OS taking over from Windows Mobile, this model of the Xperia should be light years ahead of the original model. Perhaps that is why Sony Ericsson is going to rename the device the Xperia X10 according to information picked up by Phandroid from one of its forum members with access to the handset, and inside info from a Sony Ericsson employee. So we have 2 independent tipsters passing on this information and two sources are better (and usually more accurate) than one. The first true snapshot of the phone was released yesterday, as we
reported
.
Sony Ericsson Xperia X3 Preliminary Specifications
source:
Phandroid