Sony Ericsson out on the market with K850i, W910i and two new mobile accessories
2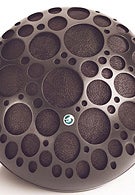 The new generation cameraphone K850i and music oriented W910i will start shipping this month, though price information for the phones is still unavailable. The company also introduced two new Bluetooth accessories: the futuristic Bluetooth MBS-100 portable speaker, and the HCB-100 Bluetooth car handsfree, whose market releases are expected soon.
The candybar K850i reaches the 5 Megapixel camera-shooting resolution of N95, which combined with the inherited from K800i Xenon flash, Cyber-shot and BestPic technologies tries to make the new Sony Ericsson phone equivalent to its Nokia rival. K850i has inherited from its predecessor the 262K (240x320 pixels) color display, the RDS supporting FM radio, Bluetooth, USB and M2 slot, which in addition support microSD memory cards. Unlike K800/K810, quad-band and 3G global roaming capabilities as well as HSDPA high-speed data transfer are offered to the customers. People, wanting to buy K850i can choose between
Velvet
Blue and Luminous Green colors.
W910i not just heightens the standard in music phone making, it sets a new one. The creators of the new slider have paid special attention to the navigation comfort by the innovative shake control, which allows the control over certain features such as the music player and some games by detecting the movements of the body. W910i also "feels" its owner's mood by the Sony Ericsson's SenseMe technology and suggest music according to it. Apart from its features, the new Walkman-series member supports quad-band global roaming, video calling, improved battery (920 mAh), 2 Megapixel camera, Stereo Bluetooth and FM radio.
MBS-100 portable Bluetooth speaker shines not only with its attractive spherical design, but also with the supported A2DP connection and the battery's capacity of 900mAh that allows up to 5 hours single charge work time at 1,5W maximum output power. The speaker will appear on market in the fourth quarter of 2007.
The new HCB-100 handsfree kit, offered by Sony Ericsson clips on the car's visor, supporting extremely simple two-button navigation and 25-hours talk time. The expected market launch of the new handsfree is scheduled for the beginning of 2008.
source: Sony Ericsson