Sony Ericsson introduced 3 new phones and 2 bluetooth headsets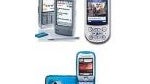 P910 is the successor of the P900. Added are QWERTY keyboard, 256k color display and the memory has been increased from 16 mb to 64 mb. The phone will ship globally in Q3 of 2004.

S710a is the same as the already announced S700 - 1.3 mega pixel camera, bluetooth, wap 2.0. In addition, the S700i features EDGE high speed data. It will be available Q4 of 2004.

K500 is a new phone geared toward mobile gaming and entertainment. It features large 1.9 inch TFT display with MultiActin joystick for easy game playing.
The accessories introduces are:
HBH-660 - featuring an info display, which shows the caller's name or number. By pressing buttons on the side of the earpiece, the user can handle calls without having to touch their mobile phone. The HBH-660 has a talk time of up to five hours and standby time of up to 150 hours. The headset will be available Q4 of 2004.

HBH-300 - optimized for long talk time (up to 10 hours) with up to 300 hours of stand-by
Desk Speaker Stand CSS-25 is basically a speaker-phone, which also can be used to charge your regular phone.

For a full article about the just announced devices, please go to our Articles section or follow this link.