Sony Ericsson announces new music accessories
1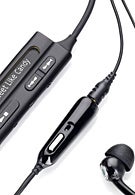 GPS Enabler HGE-100
is wired stereo headset with built-in GPS receiver, which allows you to use navigation software, once connected to the phone. Featuring 3.5mm jack in the body, you can replace the headphones with any standard ones and keep the same GPS accessory. It is compatible with most recent Sony Ericsson phones, including K800/K810, K530 and probably K850 and most Walkmans. HGE-100 will be available in Q3.
are wired stereo headphones with supra-aural design. It is designed for active lifestyle and features flexible neckband. With behind-the-neck design, it won't be an obstacle.
HPM-90
Stereo Portable Handsfree has in-ear design and small display attached to the cord, to show you the track you are listening to and the name of the person who calls you. It comes with noise-reduction headphones, but they can be replaced as a 3.5mm jack is located on the remote.
removes some of the wires, but not all. It is wireless module that attaches to your clothes and has a 3.5mm stereo jack built-in, to connect headphones for music listening.
MDS-65
music desk stand packing small speakers to play your music, and also acting as a charging cradle for any SonyEricsson phone.
MMR-70
also helps you listen to your music with friends, but it doesn't play it – just transmits it. MMR-70 connects to your phone's port and transmits the music through FM waves, which you can easily "capture" with any radio: in the car, in home, or portable.