Sony Ericsson announces new Bluetooth™ wireless handsfree – HBH200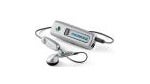 In conjunction with Sony Dream World in Paris, Sony Ericsson today announced new Bluetooth™ handsfree, the HBH-200. The HBH-200 has a control unit that can be clipped onto the user's clothing or worn with a lanyard around the neck. The earpiece connects to the unit with a wire, which also houses the microphone.
The control unit's display illuminates when a call comes in and shows the name or number of the caller. The display can also show the call list, which is stored in the phone. Calls can be made using voice control. The HBH-200 can generate ring signals both from the control unit and the earpiece, so there is no risk of missing a call if the phone is tucked away.
The HBH-200 is equipped with the Bluetooth Headset and Handsfree profiles, making it compatible with a majority of the Bluetooth-enabled phones on the market. The HBH-200 has up to 3.5 hours of talk time, up to 70 hours of standby time and weighs only 1.16 ounces.