Sony Ericsson announced G502 and Z780
0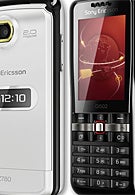 Sony Ericsson officially announced two new phones, targeted to the customers interested in mobile Internet browsing without a smartphone. Both the G502 and the Z780 are positioned in the mid-level segment, one in its bottom and the other in its top.
Sony Ericsson G502
is the third member of the G-series, after the G900 and G700, which were announced during the MWC show in February. Unlike the first two, the G502 is not based on Symbian with UIQ interface and lacks touch sensitive display. It will cover the bottom mid-level class and is a bit simpler than the K660. Just like it has a QVGA display and a 2-megapixel camera, HSDPA support and probably the same HTML browser, yet it is a tri-band GSM for the European market.
Sony Ericsson Z780
is a more advanced version of the Z770 and is clamshell with very similar dimensions and design language. It has the same QVGA display, a 2-megapixel camera and HSDPA fast data, but is a quad-band GSM and a tri-band UMTS phone, which makes it usable worldwide. Another new feature is the integrated GPS, which as with the W760 and C702, will allow navigation using Google Maps.
Both will be available in two color versions (Champagne Black or Brilliant Hazel for G502 and Grand
Onyx
or Amethyst Silver for Z780) in selected markets from Q2 this year. Pricing information has not been announced, but we don't expect them to break the bank.
source: Sony Ericsson