Sonic 4 is now racing its way to the iPhone as we speak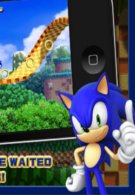 It's 16 years in the making, and the game is finally here for iPhone owners who've been patiently waiting to see this one arrive. Sonic the Hedgehog 4: Episode I is now available for download on the App Store for the premium price of $9.99 which will provide some old school game play on the venerable smartphone.
Unlike the latest iterations of the Sonic games, this one reverts back to the classic platforming style of the games developed during the 16-bit console era – with a splash of some 3D looking effects to make it stand out from its predecessors. Gamers can undoubtedly relive this classic game play where you simply run from the beginning of each stage, while catching as many rings along the day, and ultimately make it to the end of the stage while avoiding any obstacles on the way.
As usual, you'll have to work your way through 4 unique zones as you make that final confrontation with Dr. Eggman (Dr. Robotnik). The iPhone game includes 2 exclusive levels that aren't found on the other platforms that Sonic 4 will be gracing – like the Xbox LIVE Arcade and Playstation network.
via
IntoMobile