Snapchat reportedly said no to $3 billion in cash from Facebook
7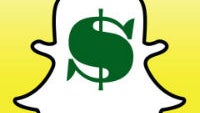 Back in June, Snapchat closed a new round of funding that valued the company at
$800 million
. Just a few weeks ago, a report came out that Facebook was interested in purchasing the company and had offered over
$1 billion
in an acquisition deal. Now we're hearing that Facebook really really wanted to buy Snapchat and may have offered a lot more.
A new report from
The Wall Street Journal
is saying that Facebook may have offered as much as $3 billion
in cash
to purchase Snapchat... and that deal was rejected. That may sound crazy, but the report goes on to say that Snapchat is fielding multiple offers, one of which is from Chinese e-commerce company Tencent Holdings and may be valuing Snapchat at around $4 billion.
Of course, either way is sounds like Snapchat co-founder and CEO Evan Spiegel isn't even planning to consider selling the company, or even gathering more investment for at least another year. Spiegel apparently believes that the company will continue to grow enough to warrant an even higher valuation in the future. According to a report from a few weeks ago, Snapchat currently has about
26 million users
in the U.S. alone, which is about half as many users as Instagram currently has in the U.S.
Recommended Stories