Snapchat, desired by Zuckerberg, might have 26 million users
4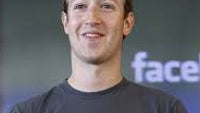 Over the weekend, a report published by the Wall Street Journal suggested that
Facebook founder Mark Zuckerberg was rebuffed by Snapchat after he proposed a $1 billion acquisition
of the messaging company. Snapchat is an app that sends messages that quickly delete. Often compared to the beginning of each
Mission Impossible
episode, which would feature taped instructions to an agent self-destructing, Snapchat is currently riding on a wave of popularity. So much so, in fact, that the metrics of the company's growth seem to remind Zuckerberg of Instagram. The photo-sharing social networking site
was purchased by Facebook last year for $1 billion in stock
.
Data just released by the Pew Research Center might give us a good idea why Zuckerberg is after Snapchat, and why Snapchat turned him down. The study shows that 9% of U.S.cellphone owners are using Snapchat. As a comparison, 18% are using Instagram. And if we convert these percentages into actual numbers, we get 26 million Snapchat users in the states and 52 million Instagram users in the country.
One reason that Snapchat turned down Zuckerberg's deal is valuation. Earlier this year,
Snapchat raised money with the company valued at $800 million
. Now, just a few months later, the valuation has skyrocketed to $3 to $4 billion.Yes, that is billion with a "b". All this for a company that has yet to book one penny of revenue. The Facebook founder has been talking about a $1 billion+ purchase and as it turns out, that price isn't even in the ballpark.
Before you disparage Snapchat for being owned by greedy SOBs, or mutter under your breath about the $3 to $4 billion value that Snapchat places on itself, the growth required for such valuation is there. Last month, Snapchat was sending out 350 million photos a day through the app, up from the 10 million a day it was sending out last year. But there is one major caveat that Snapchat will have to improve on. While Pew's survey showed that 26% of those in the 18 to 29 year old group used the app, less than 5% of adults older than 29 have used it. Those numbers suggest that while there is still room for Snapchat to grow within its target demographic, to become the next Instagram, Snapchat will need to come up with a way to make it a necessity for older cellphone users.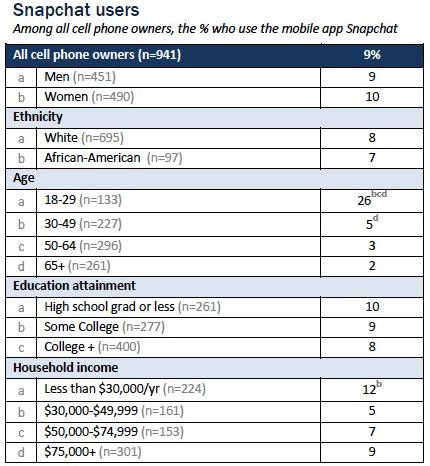 Survey shows who uses Snapchat
source:
Pew
via
Forbes