Slither.io app gets big update: you can now play against AI, plus new joystick controls
7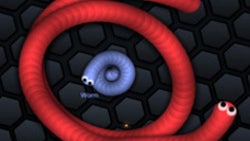 Slither.io is a drug.
You can play Slither.io on mobile and desktop, and while so far we definitely preferred the convenience of a keyboard and a big screen, this latest update makes it much more enjoyable to play on mobile.
The Slither.io iPhone app has quickly gone up to the number one spot in the App Store and stayed there in the last few weeks, and with this latest update it's gotten support for joystick controls and a separate boost button.
Most importantly, it now has a new mode that allows you to play offline against artificially intelligent sworms (for those times when you don't have a solid connection). You can get the app at the link right below for free and if you want to enjoy an ad-free version, it's possible via a $4 in-app purchase.
Recommended Stories