How to win at Slither.io: 10 tips, tricks and hacks
21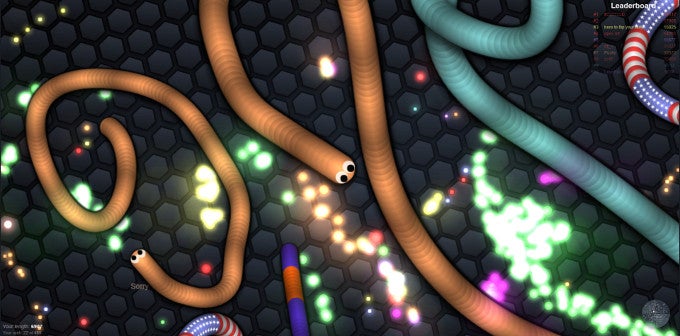 Get near the bigs, that's where all the fun is
Palms sweaty, heart beating a bit faster, I press the Ctrl+W to close the tab, where I was playing Slither.io, the new online mania that comes after Agar.io.
The score on the board is just above 10,000, and while I still haven't won (I wish I had more time to play at work), I think I've finally gotten it.
Well,
the SECRET
, of course.
The secret to becoming the biggest snake/worm (sworm?) in Slither.io.
So how do you do it? Well, I will give you tips and behaviors that you can use to hack the game. Since you are playing against other players, you should understand that Slither.io is a different game than most others. It's a game of psychology, a lot like poker, and that's what makes it so fun and addictive.
Boosting is the fastest way to get big and boosting is the fastest way to die
You have to understand that greed to become bigger is the primary motive that drives all players in Slither.io.
Once you fully comprehend this, you're halfway to winning.
With no further ado, here are my
10 rules, tips, tricks and hacks to win at Slither.io
:
1.
Slither.io is a social game: get close to the big guys as fast as possible and stay nearby. Why? Where there are big guys, there are big kills and big gains
2.
Big guys can't eat all the gains right away, that's when you should quickly boost your way and eat up to become relatively big (1,000+)
3.
Once you become 1,000+ points big, stop with the crazy boost and MOVE SLOWER
4.
Let's emphasize this: MOVE SLOWER!
5.
Boosting is the fastest way to get big
6.
Boosting is the fastest way to die
7.
Here is the secret of getting above 5,000 points: at this point, you will start seeing many dying around you. DO NOT BOOST unless you are absolutely certain there is no danger ahead.
8.
Get DOUBLE AND TRIPLE KILLS: Once you see a medium to large kill, do not rush to get it. Once you are big, you will see that smaller guys will rush to get the gains. Observe their direction carefully and encircle them. This way you get double and triple kills. LEAVING GAINS for others to boost into your trap is the best way to safely reach the 10,000 point mark.
9.
After 10,000 points you are everyone's favorite target. MOVE EXTRA SLOW. Once you are that big others will constantly make unforced mistakes around you and you can get easy gains.
10.
Quit all tactics and try boosting to KILL the big guys when you are small (less than 1,000 points). It's surprisingly gratifying to kill the big ones when you are small :)
Enjoy and do let us know: what's your highest score?