Slither.io review: the new game mania succeeds Agar.io, but is way more complex and fun
5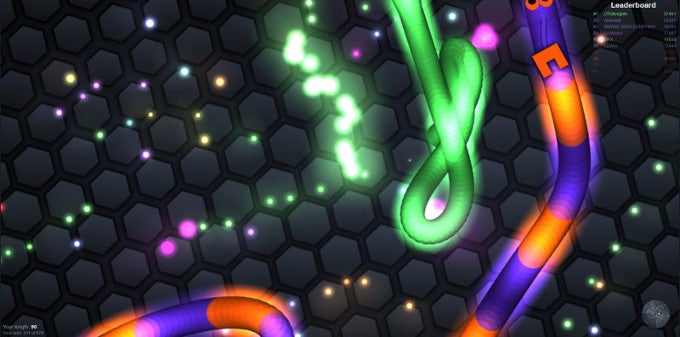 Every once in a while, a game comes that might not seem all that remarkable or technically advanced at first, but that sweeps the floor having thousands of people playing. One recent such success was Agar.io, a game where you have to grow your bubble to become the biggest in a universe of other bubbles (all played by real humans from across the globe).
Now, a new game builds up on the success of Agar.io: welcome Slither.io.
This new game changes your shape: rather than being a boring bubble, you become a super flexible and slithery snake that travels around a world filled with glittery bubbles. Your goal is to eat those bubbles and grow bigger.
Slither.io is a disaster... it's too addictive
The premise of the game is simple: you have one super skill that is clicking / tapping in order to move faster. Those faster speeds give you a huge advantage over other snakes moving at regular speeds, as you can overtake them and once they touch any part of your slittery tail, they die. Death is an individual tragedy in Slither.io, but a collective party as dead bodies leave a trail of super large glowing bubbles, the fastest and most efficient source of you growing larger.
Once you understand the basics, you'd build your own strategy for growing bigger, but here's the strategy that we follow to advance as fast as possible:
First, when you've just started and you're small, move closer to the big guys. Big snakes are big by no mistake: they kill a lot of other snakes, but cannot fully collect the remains, so you will get a chance to quickly grow fast.
Once you see an opportunity in the form of a dead snake, go into fast speed as you collect the glittery bubbly remains
If you feel in danger and get surrounded by the big guys, wrap yourself up in a pretzel or a circle and seize an opportunity to escape using the fast speed superpower
Do not abuse superspeeds: you might accidentally go too fast and bump into another snake and die
With all these tips and tricks, and mind we've gotten to the top 10 list quite quickly, but work got in the way.
Quite honestly, Slither.io is a thrill to play: fast-paced, full of danger and opportunity, simple and fun, it's a game you pick up to play for a few minutes and end up spending hours, and leave with trembling hands and a sense of achievement. It's tons of fun, especially when you play on a same map with a few friends.
You can try it in your desktop browser or on your smartphone by following the link right below:
Pros
Abusively addictive
Amazingly simple to learn, tons of fun to play
Cons
Don't crush your phone or monitor when you die!
Annoying in-app ads for mobile version
Could be laggy, even on better connections
You'd better play it on a large screen