Skype for Windows 8 becomes official: always on and integrated with People Hub
13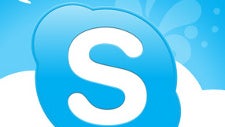 When Microsoft releases Windows 8 in just a couple of days on October 26, it might not have all the apps you'd wish for, but it would have Skype. More than a year after Microsoft shelled out $8.5 billion for the VoIP client, Skype is finally getting fully integrated into Windows.
This means that you'd always be online and within reach without having to remember to turn the app on, and without having the app sucking up your battery. Receiving audio and video happens on all sorts of devices, so you don't need to worry whether you are using your tablet, desktop or laptop.
Skype for Windows 8 is of course designed in the "Modern" UI design language. Modern is the name Microsoft now uses for Metro, the design language with large typography and monotone background colors. This means you'd also have a Live Tile pinned to your home panel where you could easily see all of your latest notifications.
Just like with other apps in Windows 8, you can snap Skype to the side and have another app running along it while you chat.
You can take a peek at Skype's new look and feel for Windows 8 right below, and don't hesitate to give us your thoughts about it in the comments.
source:
Skype