Skyfire browser approved for Apple iPhone, allows Flash videos to be viewed as HTML5
5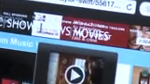 The Skyfire iOS browser, seen this week on CNN, will be launched Thursday morning on the App Store at a price of $2.99. The browser allows Flash videos to be viewed on Apple products as HTML5 thanks to Skyfire's servers. When an Apple iPhone user surfs to page with Flash content, he will see a thumbnail which can allow the content to be streamed as HTML5 content.
Back in May, before Android 2.2 was dropped onto certain Android handsets which allowed Adobe Flash Player 10.1 to function, Skyfire 2.0 was downloaded over 1,500,000 times on phones running Google's open source OS. Despite this huge acceptance, not all Flash video can be viewed with Skyfire. For example, TV streaming app Hulu has been blocked and will not work with the browser.
Because of Apple's ban on Flash, many websites have started to convert their video so that it can be viewed in both Flash and in HTML5. A recent study said that more than 50% of videos available on the internet can be viewed in HTML5. Some of this new demand for HTML5 can be traced to the words of Apple CEO Steve Jobs who has put down Adobe's software as being unstable as we
reported
.
source:
AppleInsider
Recommended Stories