Six new budget Motorola phones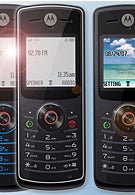 Motorola W206 and the W213
are the most simple in their look, classical candybar phones with curved lines. Probably featuring similar specifications, the W213 is the bigger brother with FM radio.
Motorola W156, W160, W175 and W180
are featuring the MotoFone F3-like design, slim profile with flat keys and RAZR2-reminding design of the keypad. The W156 and W160 are with black and white screens which will allow for great battery times and visibility under wide lightning conditions. Probably the same in their specifications, the W160 is upgrading with FM radio.
The Motorola W175 and W180 are very identical to the W156 and W160 in design, but have color displays instead of B&W ones. The W180 features FM radio.
source: Motorola