SigFig now available for Windows Phone
1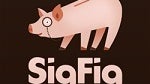 SigFig is a feature packed investment portfolio manager that lets you measure the performance of your investments, from stocks to 401K accounts.
With SigFig, you can see all your accounts in one place, updated in real time. The app shows you the "big picture" and it is read-only, so your money and investments cannot be manipulated, even by you.
While some might wonder what the value is in something like that, the advantage is that the app utilizes a series of charts to measure the performance of your holdings and the app generates advice on ways you might improve your position. SigFig also looks at other data indicators which might help you save on fees, and it will tell you if your accounts are over-charging you for services.
SigFig has been available for iOS and Android for sometime now, and with its addition to the Windows Phone, it puts another feather in the cap for Microsoft's mobile OS. Moreover, SigFig supports a majority of brokerage services, including Ameriprise, Charles Schwab, Edward Jones, ETrade, Janus, Merrill Lynch, OptionsXpress, Scottrade, Sharebuilder, TD Ameritrade, Thinkorswim, T. Rowe Price, USAA, Vanguard and Zecco.
Check out SigFig in the Windows Phone Store at the source link below.
Thanks Rodney for the heads-up.
source:
Windows Phone Store