Sharp outs Aquos ZETA SH-03G with record slow-mo video, and LED lights in the metal edge
33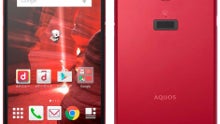 Sharp is gunning for the record screen-to-body ratio again with the newly-announced spring/summer lineup of NTT DoCoMo in Japan. The fresh Aquos ZETA SH-03G is shorter than a Galaxy S6, and yet features a 5.5" display, due to Sharp's
EDGEST
design platform. The 1080p screen is built with Sharp's homebrew IGZO technology that doesn't push the refresh rate when the display is showing still images, so the power draw is pretty minimal, compared to other technologies, thus the 3000 mAh juicer will easily last you two days on a charge.
The Aquos ZETA SH-03G is equipped with the newest Qualcomm Snapdragon 810 processor, 3 GB of RAM, and 32 GB of internal storage out of the box. On the back you will find a 13 MP camera with OIS and wide f/1.9 aperture, GR certified lens by Ricoh, the works. Sharp claims a record-setting slow-mo video out of this camera, with 480p done at 210fps, and interpolated to 2100fps, which lets you slow down the typical 30fps footage 70 times. There is DTS dolby surround sound, too, a fingerprints scanner on the back, and those hexagonal corners of the metal side rim are there for a reason - Sharp placed some cool LED lights in there, so that you can color your music or notifications any way you like.

The hexagonal metal frame lights up in different LED colors
In terms of software goodies, the new Aquos phone ships with very lightly skinned android 5.0 Lollipop, and a one-handed mode that can shrink the whole interface for easier operation. As usual, the phone is waterproof, and we can only hope Sharp will export it outside of Japan, like it did with the
Crystal
model here on Sprint.