Sharp SH800M intended for a Chinese market release
0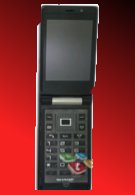 The only big name handset we see that Sharp dishes out here in the US that's noticeable is the line of Sidekick phones for T-Mobile. Other than that, there are slim pickings from the manufacturer. Not something we really tend to see here in the US, there has been some new images captured of the Sharp SH800M handset which is bound for the Chinese market.
Speaking truthfully, this handset probably won't make it to our shores anytime soon with its simple clamshell form factor. Nothing really stands out from the photos we see of the handset – it has a
3.2
-megapixel camera and a plain looking keypad. One item that you should pay attention to is its slightly rectangular sized display – the shape is prominently used in almost all facets of this handset from its overall size and shape of the buttons. It definitely harkens back to simple times when this styling was all the rage – unfortunately it probably won't turn heads as much as it used to in the past.
via
Just Another Mobile Phone Blog