Select Capcom games for the iPhone are on sale for $1 through the weekend
0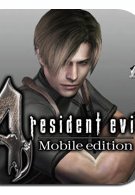 Sure we're all guilty of resorting to downloading those "free" games just because some of us may not want to shell out cash for top tiered quality titles, but thankfully Capcom is attempting to ease the burden for our wallets.
It looks like select Capcom titles for iOS devices will be on sale for 99 cents a piece – and some of the titles are easily worth more than that. The list of games that are less than $1 include Resident Evil 4, 1942: First Strike, Mega Man II, Cash Cab, Dark Void Zero, Cash Cab: Las Vegas, Are You Smarter Than A 5th Grader 2010, and Who Wants To Be A Millionaire 2010.
These titles are generally priced from $1.99 to $4.99, so it's nice to see the large break in pricing. If you're still on the fence on whether or not to download these select titles, just remember that the promotion is only good until this weekend. For only 99 cents each, it's very difficult to not give one of the games a chance.
via
touchArcade