Satechi Soundfly View hands-on
1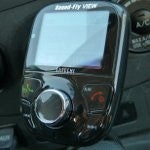 Rather than spending two paychecks grabbing yourself some kind of new stereo system to get your favorite smartphone connected to your car, you ought to check out the easy and simple solution offered by the
Satechi Soundfly View
. Specifically tailored for use in a vehicle, since it's attached snuggly to a
5V port
with its adjustable neck, it's a compact
Bluetooth
device that features a built-in
FM transmitter
and a wired connection to stream audio from your smartphone.
Thanks to its elongated adjustable neck, we're able to operate the Satechi Soundfly View with little issues trying to access its buttons and job wheel. Sporting a
2-inch LCD
that illuminates in three distinctive colors, we're able to view it easily by adjusting its contrast – though, its linear menu system appears to be
archaic
by today's standards. Nevertheless, the jog wheel provides instant access to its worth of options and settings. Moreover, it features physical buttons such as send/end and forward/reverse keys for those preferring a tactile response with each operation. On its left edge, we find both audio-in and out ports for connecting our smartphone directly to it – as opposed to streaming audio via its FM transmitter. Meanwhile, a full-sized
SD card slot
is placed on the right side, which allows the Soundfly View to access songs stored on it. Lastly, a
USB port
is tucked on the bottom area of the device to allow other devices to charge while the device is simultaneously connected.
Obviously, the biggest thing going for the Satechi Soundfly View is its ability to stream audio from our smartphones – as well as acting as a Bluetooth system for placing/receiving phone calls. Much like any other FM transmitting device, there are instances of
interference
that degrade the audio quality through our car's speaker system – though, its volume control options allow us to adjust its volume, treble, and bass to better fine tune its output. However, if you want the best quality, then you're best route is to use the wired connection available with the device – plus, it's packaged along with a 3.5mm to 3.5mm cable for that purpose.
Pricing is always going to be a concern, but at
$79.99
, it might seem a bit pricey for something strictly reserved for vehicle usage – even more when its build quality and menu system aren't the most polished things out there.