Samsung's new Galaxy J5 (2017) and Galaxy J7 (2017) leak out entirely, all color versions shown here
6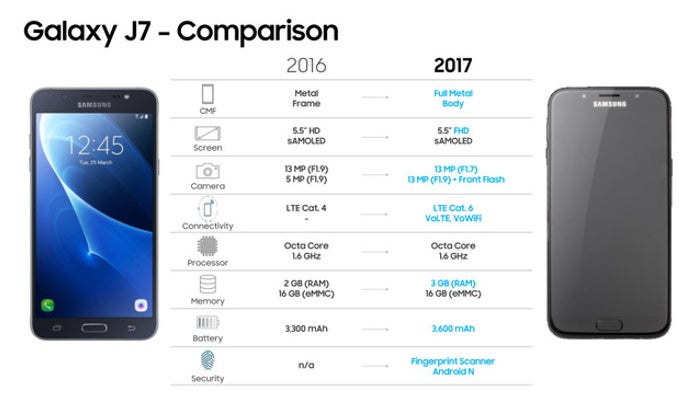 The affordable Samsung Galaxy J series are some of the most popular cheap phones that you can get, and this year, they are getting an update with at least two new phones: the Samsung
Galaxy J5 (2017)
, and its sibling with a bigger screen, the
Galaxy J7
(2017).
Sleek, metal, colorful, affordable: the new J (2017) series
the new How do we know? It's not Samsung that has revealed any official information just yet, but a treasure trove of leaked images have surfaced recently, and this here is your ultimate source of leaked photos: the new J5 (2017) and the J7 (2017) are shown in all their color versions and from all angles.




The big new things in the 2017 Galaxy J phones are a brand new full metal body, an upgrade over the plastic 2016 J phones, a bump in resolution, improved cameras, faster 4G LTE support, 3GB of RAM (vs 2GB of last year's models), but still only 16GB of internal storage. Good news is that fingerprint security is also finally coming to the affordable J series in 2017.




Interestingly, it seems that Samsung will also put the loudspeaker in the phones on their side, similar to the A series. We don't mind: we find it a great position as it is hard to muffle sound accidentally with the speaker there.




The rest is images and all the official colors of the Samsung Galaxy J5 (2017) and the Galaxy J7 (2017). How do you like them?