Samsung's Power Sharing cable lets you charge other devices from your Galaxy phone or tablet
52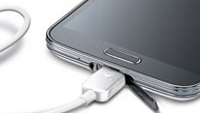 Samsung today announced the availability of its Power Sharing cable (model number EP-SG900), a new accessory that allows you to transfer battery power from a Galaxy phone or tablet to another device.
At the moment, Samsung says that you can share power from the following products: Galaxy S5, Galaxy Alpha, Galaxy Note 4, Galaxy Avant, Galaxy Tab S 10.5, and Tab S 8.4. As for the gadgets that can be charged with the new cable, these include any device with the ability to charge via microUSB (a phone, tablet, smartwatch, and so on). It looks like the devices that receive power don't have to be Samsung-branded.
To use the new cable, you first need to download the Samsung Power Sharing app from Google Play Store or Samsung Apps. The application lets you easily control the amount of power that you want to transfer.
The Samsung Power Sharing cable seems to be available only in the US for now, costing $19.99 - you can buy it via the first source link below. What do you think, do you find a cable like this useful?
sources:
Samsung
,
Samsung Mobile Press
,
Google Play