Samsung's Mother's Day ad is cute. If you relate to it, you may win a Galaxy S6 edge, too
3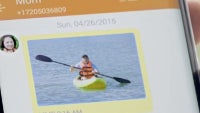 Mother's Day is right around the corner in USA and, of course, with Samsung's
Galaxy S6
and
S6 edge
still being pretty hot out of the oven – the company has launched a video ad, themed around the holiday but also keeping the new handsets steadily in the spotlight. The video depicts various humorous texts sent from "mom" and some of them – you may actually relate to.
If this happens to be the case, you may actually win something out of it – Sammy will be doing a Galaxy S6 edge giveaway where the funniest "mom text" will win one unit of the curved handset. To win, you must follow @SamsungMobileUS and post the funny texts with a #TextsFromMom hashtag. Needless to say, the giveaway is open to US residents only.
So go ahead and check the commercial out. If you happen to think "Ha! You think that's funny? Wait 'till I tell you what my mom texted me last month!", then you just may have something to tweet out.