Samsung's Galaxy J5 and J7 will include the Galaxy S6's TouchWiz UX
8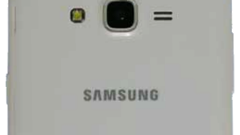 About two weeks ago, we were unofficially introduced to the
Samsung J5 and J7
, two mid-range handsets housed in a plastic exterior. Neither have been announced by Samsung as yet, but having been approved by China's Telecommunication Equipment Certification Center (TENAA), we got a glimpse at each courtesy of some leaked images. Now, further details have emerged pertaining to these forthcoming handsets, with Samsung China having uploaded the user manuals of both devices.
The manuals are written in Chinese, but do reveal that the Galaxy J5 and Galaxy J7 will borrow the TouchWiz UX as seen on the flagship Galaxy S6 and its counterpart, the Galaxy S6 edge.
The Galaxy J5 and J7 both offer considerable interior upgrades over the
Galaxy J1
, which is already official. The J1 is about as entry-level as a smartphone can get nowadays, with a mere 512 megs of RAM and a dual-core, 1.2 GHz processor.
The Galaxy J5 and J7 look much better on paper. The J5 will include a quad-core Snapdragon 410 processor, 1.5 GB of RAM, and 8 GB of on-board storage, as well as a 5-inch HD LCD display, 2600 mAh battery and an 8 or 13-megapixel rear camera. Meanwhile, the J7 will be treated to an octa-core Marvel chip, and aside from a 5.5-inch display and a slightly larger 3000 mAh battery, will be kitted out similarly to its smaller counterpart.
Both will include Android Lollipop 5.1 right off the bat, and along with the TouchWiz UX, a few other S6 features, like Smart Manager for streamlined RAM and storage management, will also make the cut.
The J5 and J7 will, unlike the recent Galaxy S models, include a microSD slot to increase the relatively small amount of internal real estate, and both will offer 4G LTE connectivity.
Samsung has yet to announce these two handsets, but with the manuals having been uploaded, it shouldn't be too long now.