Samsung unveils 3 mega pixel camera phone with 3x optical zoom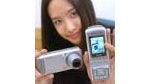 Samsung just released their newest camera phone for the Korean market – the SPH-2300. The built-in camera is really what stands out – a whopping 3,000,000 pixels or 3 mega pixels. In addition, the phone also has 3 times optical zoom. Most of the today camera phones have only digital zoom, which is inferior to the optical one and usually is associated with loss of detail. In addition, most camera phone sold today only have around .3 mega pixels and lack features like ISO sensitivity, focal distance and shutter speed manual manipulation. The new Samsung phone supports also those plus TTL metering, 4x digital zoom in addition to the optical.
The new device resembles compact digital camera at the front, and mobile phone at the back. Mini-SD memory expansion is used to store the images. The price is set to be around $700.
Spefications:
Dimentions: 4.44 x 2 x 1.02 (113 x 51 x 26mm)
Weights: 4.65 oz (132 g)
Camera resolution: 3 mega pixels
Zoom: 3x optical plus 4x digital
Shutter speed: 1/1000 to 4 seconds
Other features: Flash, TTL metering