Samsung prepping a new 'Life Times' app, may launch alongside the Galaxy S5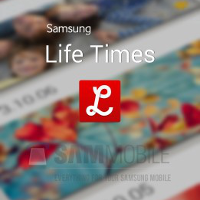 A new Samsung app is on its way, according to SamMobile, and they have the evidence to prove it. Dubbed "Life Times", the new app is something of a diary that is being compiled automatically by your smartphone as you go through the day. Of course, we're talking a richer kind of diary, one that uses a plethora of sources to feed content onto its virtual pages, including Facebook, Instagram, and LinkedIn, but also your call logs, e-mails, messages and so on. This will allow Life Times to sketch a fairly informative snapshot of your day.
The new app is likely already headed for release, and it'll be probably announced on stage alongside the Galaxy S5 -- after all, numerous new features and apps have been a part of Sammy's repertoire lately. That said, Life Times looks like an exact copy of LG's Life Square app, which does the exact same thing -- it creates the very same kind of 'diary', and pulls its content from the very same sources. Hopefully, Sammy has put more of an effort into its version of the idea, as LG's sure could use some polish. Regardless, we found such apps kind of useful, as they essentially allow you to take a peek into the past, without having to rely on your fallible memory.