Samsung may prep for big Galaxy S8 demand, orders much larger initial batch than for S7
5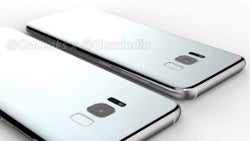 Expecting swarming interest in its upcoming
Galaxy S8
and
S8+
handsets, Samsung has reportedly increased the S8 production run at launch with 40% compared to the initial order to suppliers for the
Galaxy S7
. The S8's predecessor was tasked at 12 million units from the start, while the Galaxy S8 while Samsung assemblers will allegedly have to churn out nearly 17 million phones for the stocking on the shelves at release.
This comes to show the certainty Samsung feels about the potential interest in Galaxy S8, and, given that its fans have been flagship-deprived after the
Note 7
gave up the ghost, Samsung may have a point. The overall sales goal that the company's forecasters will chase is 60 million Galaxy S8 units, up from 48 million for the S7, and 45 million for the S6. As for the breakdown of sales between the smaller and larger models, the source tips that the OLED display business of Samsung is getting ready to ship 10 million panels for the S8, and 6 million for the S8+.
Samsung may also be shipping more screens for the initial batches, as it is trying to secure oversupply for its own phones, before the
OLED iPhone 8
hits the tape later in the year, as those contracts with Apple are perhaps
again for millions of units
, and Samsung will most likely have to honor them all if Apple's upcoming phone proves a hit.