Samsung intros Battery Brutus, Fiona Freeze and Loading Ball Larry to tout its flash memory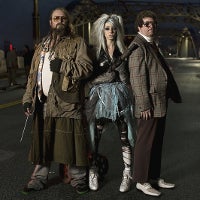 In a new promo video campaign entitled
The Conspirators
, Samsung Memory introduces three characters - Battery Brutus, Fiona Freeze and Loading Ball Larry - that represent the most common issues with today's electronic gadgets, like freezes, slow loading times and battery sapping.
Needn't to say, all your problems with the three villains will be solved if you just used Samsung memory modules, like, for example, Apple, which Samsung takes a jab at in the videos with the "spinning beachball" Mac computer users encounter when something is loading. By far our favorite personage is Battery Brutus, who could very well be played by Mickey Rourke:
You know him. He knows you. And he knows just when to prey on your devices. Like when you're stuck on an airplane. Without a plug. In the middle of a movie.

Battery Brutus is the man who'll cut off your calls, kill your camera, and put an untimely end to your favorite show without batting a greasy eyelash. Give Brutus the boot and preserve your battery life with Samsung Memory.
The three videos set is very entertaining to watch, and is definitely the way to explain these issues to the general public, rather than speaking about latency, memory types and so on. Enjoy.