Samsung infographic highlights the Galaxy S6 edge+ multimedia features
2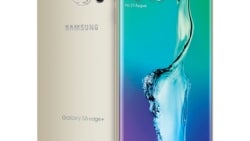 In an effort to promote the
Samsung Galaxy S6 edge+
ahead of the phablet's official launch, the manufacturer has just launched a neat little infographic that details the features of the device, with what seems to be a natural focus on the various multimedia features of the phablet.
In the week that has passed since Samsung unveiled the Galaxy S6 edge+ alongside the
Galaxy Note5
at the company's latest Unpacked event, there has been a lot of talk about the large Galaxy S6 version. Still, if you were having a doubts as to what the purpose of the curved display phablet is, Samsung's new infographic hints that the Galaxy S6 edge± is primarily a multimedia centric phablet.
Naturally, the 5.7-inch Super AMOLED display with a resolution of 1440 by 2560 pixels and dual curved edges is one of the first thing that Samsung mentions. In the same section, the company brags about the handset's ability to stream live video from the camera to friends and family, as well as the multitasking prowess ensured by the 4GB of RAM that the handset integrates.
Another section is completely dedicated to the handset's cameras. The 16MP primary sensor with Automatic Real-Time HDR, Face Detection, OIS, and Wide-shot function takes up half of the slide. The other is used to list the specs of the secondary 5MP sensor "selfie" sensor on the front. Basically the same new camera hardware as on the Galaxy S6 but with new software options, the cameras will likely be one of the strong points of the phablet.
The same infographic also details the Samsung Pay capabilities of the Galaxy S6 edge+, as well as the phablet's fingerprint reader.
Naturally, Samsung can only highlight the advantages of the phablet that will replace the Galaxy Note5 in most markets around the world. For a much more neutral analysis, make sure to check out our
Galaxy S6 edge+ hands-on
piece, as well the recent
PhoneArena Writers RoundTable
.