Samsung Zeal sneaks its way to Verizon's lineup today for $79.99
3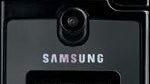 Without much
word or notice
, the Samsung Zeal is no longer a handset in question now that it's available through Verizon's web site. We've been seeing some items being leaked regarding this messaging phone that continues the Alias legacy with its unique clam-shell and flip form factor.
But for those looking to play around with this device, you can now own it for the price of $79.99 with a 2-year contract. With that, you're treated to such items like an E-Ink QWERTY keyboard, 2.6" QVGA main display, 1.3" external display with a 128 x 128 resolution, 2-megapixel camera, Bluetooth, and a microSD card slot.
So if you're serious about scoping out this handset, you can happily head over to Verizon's web site to place an order for yourself.
source:
Verizon

Samsung Zeal is now available on Verizon's web site for $79.99 with a 2-year agreement.
Recommended Stories