Samsung Vibrant and myTouch Slide ready for T-Mobile TV update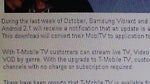 Chances are that
Samsung Vibrant
and owners will be quite happy to hear that T-Mobile is finally providing a software update for their phones. The unhappier part of this otherwise positive event is that the update coming from T-Mobile is not the one Samsung Vibrant owners have been waiting all along – yes, Froyo, we're looking at you - but rather they and the owners of the
myTouch 3G Slide
will get T-Mobile TV sometime during the last week of October, according to a leaked document.
For those of you who are not that familiar with T-Mobile TV, it's almost identical to MobiTV, only rebranded with "T-Mobile" infront of it. You get free streaming of ABC, Fox Sport and Disney among other channels.
Customers of the fourth-largest US carrier can watch T-Mobile TV for free in the first 30 days, but from then on it will cost them $9.99 a month if they want to retain this service. It's important to note that for flawless streaming a good 3G connection is needed.
Although a good addition to T-Mobile's services, our feeling is that the owners of the Samsung Vibrant will be much happier when they eventually get a software update with Froyo in it. All that's left for them is patience in case they have
resisted the Kies
temptation.
source:
TmoNews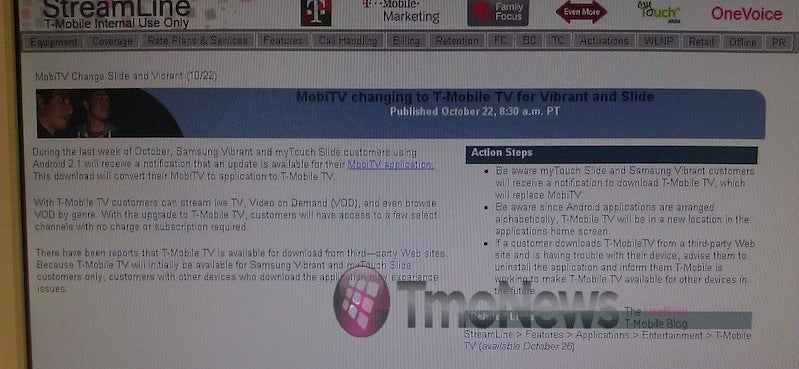 Leaked T-Mobile TV document