T-Mobile myTouch 3G Slide Review
12

Introduction:
The first and second Android powered smartphones that were released in the US market were respectively the
T-Mobile G1
and
T-Mobile myTouch 3G
– both handsets were products from smartphone maker HTC. Then, shortly after the myTouch 3G was introduced, more and more Android handsets started pouring in, eventually beginning the Android mania we're witnessing today.
Here comes the
T-Mobile myTouch 3G Slide
– a distant relative to the first Android phone ever. Packing a physical QWERTY to supplement the messaging experience, it's still one of the few handsets available to T-Mobile customers that run Android 2.1 right now. Moreover, it employs a slightly modified version of Sense, but will it be enough to entice customers in the midst of an already crowded market?
The package contains:
• T-Mobile myTouch 3G Slide
• microUSB cable
• Wall Charger
• Stereo headset
• Getting Started Guide
Design:
When you think of the many industrial designed smartphones that HTC has been able to meticulously craft over the years, the myTouch line of devices have been somewhat of a departure – and the myTouch 3G Slide follows suit. Employing an almost identical design style that's evident on the myTouch 3G, it essentially looks just like it except for the addition of a slide-out physical QWERTY. Corners are rounded that make it naturally comfortable to hold in the hand, plus it has a slight chin on the upper and lower portion of the touchscreen. The handset isn't afraid to flaunt its girth as it looks considerably bulky (0.60" thick) over some contemporary models like the
Motorola DROID
– plus it packs some serious weight (5.90 oz) despite its plastic construction. Ultimately its design definitely screams for a mid-range offering, but we're not confident that it could withstand a drop or two – even more so when it's one heavy device.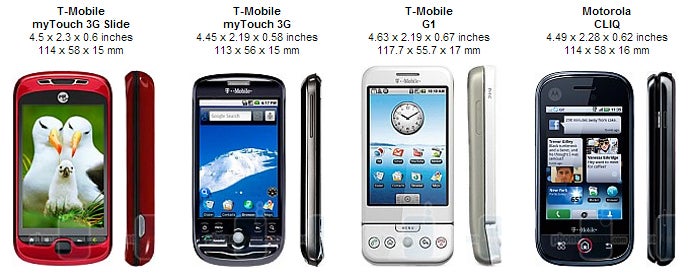 You can compare the T-Mobile myTouch 3G Slide with many other phones using our
Size Visualization Tool
.
Traditionally, it's hard to find any fault with the myTouch 3G Slide's
3.4" TFT display
which sports HVGA resolution (320 x 480) and support for 262k colors. For a mid-range Android offering, this is pretty much what's expected out of the device as its touchscreen is naturally responsive with colors looking more washed out than anything. Even though it's not the most detailed display out there, text is still recognizable from a good amount of distance, but you can tell it's just not as sharp as we'd like. When using the phone outdoors, we were happy to see that its display is still viewable in conditions with the sun present – plus it had some good viewing angles as well.
There's no arguing that there is less of an off beat chance that you'll accidentally press a physical button, but for some odd reason, the ones found below the touchscreen weren't as practical as what we would've liked for them to be. Not only are they flush to the surface, but they're somewhat cramped and don't offer the most responsive feedback. Even the well sized optical pad lacked a decent tactile feel and it's just rare for us to rely on it for navigating. Since most of the dedicated buttons are also found with other Android handsets, the one all the way to the right labeled "G" is strikingly different – it's actually the "Genius Button" which is essentially a type of voice command app. In addition, the dedicated power button, volume rocker, and two-level shutter key follow similarly as they lacked that solid tactile response when pressed. Some standard features like the 3.5mm headset jack and microUSB port are implemented with the handset. Furthermore, the 5-megapixel auto-focus camera with LED flash are found in the rear, while the speaker phone can be found close by. Finally, you'll have to pull off the back cover to gain access to the battery, SIM card slot, and microSD card slot.
The four row QWERTY in use with the myTouch 3G Slide isn't the best we've seen out of HTC's camp as it pales in comparison to something like the one presented on the
HTC Touch Pro2
. When comparing it to the G1, we preferred the myTouch 3G Slide's snappy opening and closing mechanism. Somewhat on the smaller side, keys are raised from the surface, have an equal distance from one another to make them easy to distinguish with a finger, and also had a soft response when pressed. However, we didn't like how numbers are labeled on the buttons as they were similar in size to the letters which they share the same space on – it just made for some confusion when typing. Even in area where lighting is good, we had no issues making out the QWERTY with its bright back-lighting.
Recommended Stories