Samsung UltraTOUCH is a slider with AMOLED touchscreen
3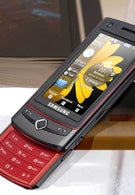 Today, Samsung announced the
UltraTOUCH
(previously known as the
S8300
) high-end phone and its plans to "deliver its new vision for full-touch mobiles at the forefront of style and design" at the upcoming Mobile World Congress trade show next week. It seems that the still unannounced
Acme
and
M7600
will be the touch phones, targeted respectively for HD video and high quality music, while the UltraTOUCH will be more balanced and stressing on its design, typically for an Ultra line phone.
One of the UltraTOUCH key features is the 2.8" WQVGA (240x400 pixels) AMOLED display, covered with anti-scratch glass. The OLED technology is known for its potential to deliver high brightness and contrast and respectively, great looking image. However, if you are not a fan of typing on the screen the phone also packs a standard numeric keypad. Although it doesn't stress on its features, it will also offer everything that is standard for a high class handset – an 8-megapixel camera with LED flash and lots of features, support for a large variety of video formats, including DivX and Xvid, aGPS, 3G and microSD slot for up to 16GB of memory. The only feature missing from the pack is Wi-Fi support, for connecting to wireless LAN networks.
Expect our hands-on with this and the rest of the cool new phones next week, directly from MWC 2009.
Samsung UltraTOUCH Specifications
via
AkihabaraNews