Samsung Transform, Sanyo Zio and LG Optimus S with Sprint ID are officially official
5

Yesterday we
were tipped
about the three new Android phones to use the novel
Sprint ID
service with great detail, but nothing beats the official presser. So here we go - Sprint adds S
amsung Transform
,
Sanyo Zio
and
LG Optimus S
to its lineup. All three are pilot phones for the new Sprint ID applications and theming service.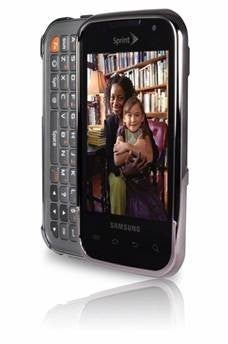 The Samsung Transform
is with a slide-out QWERTY keyboard, a 3.5" touchscreen with 320x480 pixels of resolution, 800 MHz processor, and 256/512 RAM/ROM. There is a 0.3-megapixel front-facing camera, 3.2-megapixel rear camera with an LED flash, and it will be running Android 2.1. It is expected to receive the Froyo treatment soon after launch. The Samsung Transform looks totally like the
Samsung i5510, which we reviewed recently
, sans the LED flash, so you can have a look at the review and gauge what Froyo will feel like on the Samsung Transform.
Samsung Transform's dimensions are 2.42 x 4.61 x 0.61 inches at 5.4 ounces of weight. The 1500mAh battery promises up to 6 hours of talk time. Set to arrive on October 10th, it'll be priced at $149.99 after a $100 mail-in-rebate and your signature on a 2-year contract.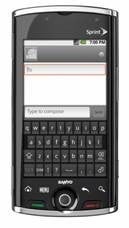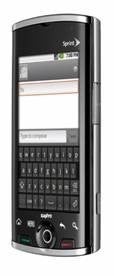 The Sanyo Zio
will feature a 3.5" display at 480x800 pixels, 600MHz processor, 3.2-megapixel camera, and will also be running Android 2.1 from the onset. However, just like the Transform, Sprint will give the Zio its Froyo dessert some time after it is launched. Still, there is address book integration with Facebook, Twitter and MySpace. Sanyo Zio comes with several keyboard options, all with haptic feedback. There is also an accelerometer to rotate between landscape and portrait orientations, and an ambient light sensor that automatically adjusts screen brightness.
The Sanyo Zio is offered in black, with silver trim, and features a trackball for navigation. Dimensions are 4.6" x 2.3" x 0.5" at 3.7 ounces of weight, which makes it one of the thinnest and lightest Android handsets on the market. The removable 1130mAh battery provides 4.5 hours of talk time. As for pricing, it's expected to tally in at $99.99 with a contract and will also be ready for an October 10th launch.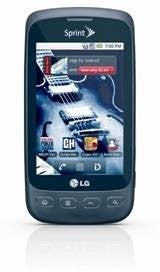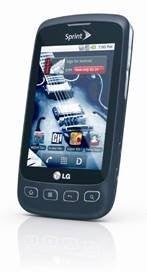 Finally, the
LG Optimus S
sports a 3.2" touchscreen with 320x480 pixels, 3.2-megapixel auto-focus camera, 600MHz processor, and will thankfully come packed with Android 2.2 from the beginning.
Dimensions are 4.47" x 2.32" x 0.52" at 4.6 oz., and the 1500mAh battery supplies 5 hours of talk time. Surprisingly, this one is believed to come in at a price point of $49.99 after a $100 mail-in-rebate, which will definitely turn some heads when it's released in time for Halloween on October 31st.
The LG Optimus S will support mobile hotspot from the beginning, while the Zio and Transform will obtain the ability once they are upgraded to Android 2.2 Froyo. All handsets come with 3G, Wi-Fi, GPS, Exchange email and Visual Voicemail capabilities. In addition, the Sprint ID service will allow you to download preset ID packs, which include themed wallpapers, ringtones, widgets and applications for the sport fans, through the business folks, to the music lovers, thus easing the process of sorting through the Sprint's and Android Market customization features.
Samsung Transform Preliminary Specifications
Sanyo Zio Specifications
|
Hands-on
LG Optimus S Preliminary Specifications
source: Sprint