Samsung T569 is an entry level phone headed to T-Mobile?
0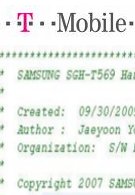 With the myriad of manufacturers flocking to Las Vegas for CES, sometimes non-smartphones get overlooked in all the presentations. According to Cell Phone Signal, T-Mobile will be getting an entry level handset in the Samsung T569 – it doesn't throw you with an impressive long list of features, but may fill the void of being a decent basic phone. It comes along with all the standard amenities you hope that a T-Mobile entry level phone provides – like Bluetooth, SMS & MMS capable, and MyFaves. Additionally it has a 200 x 400
pixel
screen, 3G, and is powered by version 1.5 of the Dolphin Browser. If you're not into something to cumbersome, then maybe this handset might fit the bill for you – just don't expect it to be too smart, but then again, isn't that what a smartphone is for?
source:
Cell Phone Signal