Samsung SGH-A707 - HSDPA capable phone for Cingular
This article contains unofficial information.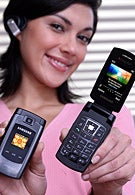 It's been rumored for some time now, but here are the first high resolution images of the new Samsung A707, coming soon to Cingular. It's not a smartphone, unlike the i607, but also will take advantage of the carrier's high-speed HSDPA data service. The elegant phone will also come with music-dedicated touch keys and support for wireless stereo sound over A2DP Bluetooth profile. The 0.7" (17.5mm) thick body also packs 2-megapixel camera.
Samsung SGH-A707As the leaked images look like Press Photos and have all the Cingular branding over them, we believe that the successor of the ZX20 will be soon available for purchasing, although there is still not official information from either Samsung or Cingular.
Source: AkibaharaNews