Samsung Moment is expected to receive a minor update on November 3rd
5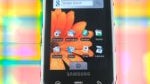 Now that it is long gone from Sprint's lineup online, some believe that the rash of recent mid to high end range of Android powered Samsung smartphones would mean no more love for the aging Samsung Moment. However, the case is not so as it appears as though a minor update is bound for one of Sprint's very first Android pioneers.
Even though some would like to see Android 2.2 to somehow make its way to the handset, the DJ07 update that's expected very shortly will only address two very minor bugs found with the handset. First and foremost, it'll fix the 911 call restrictions after modem crash related to airplane mode and data lockup. While the second item that is offered with the update will bring forth some proximity sensor and screen lock enhancements.
Not much else aside for those things, but nonetheless, owners should be glad to see something still grace the once alluring handset. Just be sure to check your handset come November 3rd for this over-the-air update.
via
AndroidGuys