Samsung Giorgio Armani W820/W8200 to be a Korea-only phone?
This article contains unofficial information.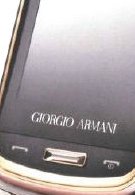 Are you ready to strike a pose? If so, you may want to have a Giorgio Armani branded phone in your hands if you really want to have cameras go off as you walk by. Samsung is in the works with the SCH-W820/SPH-W8200 Giorgio Armani slider phone that will have some rocking specs to match its fashionable appeal. It'll sport a 3.1" AMOLED WVGA (800x480) touchscreen with 16 million colors, Bluetooth, HSDPA, 5-megapixel camera, DivX functionality, and a front facing camera for video conferencing. Not to out do those impressive features, people will see how much luxurious it is with gold plated sides and a sapphire glass to make it almost scratch resistant. It's still unclear whether or not Samsung will pack some it's TouchWiz interface with some Giorgio Armani styling. You might even forget that you're carrying a phone around and will most likely treat it as a piece of jewelry. So far it's rumored to be released some time this month with no word on pricing just yet – and it is still being talked about as a Korea-only handset.
source:
Samsung Hub