Deal: Buy a Samsung Gear S3 for $70 off and get a wrist band at half the price
2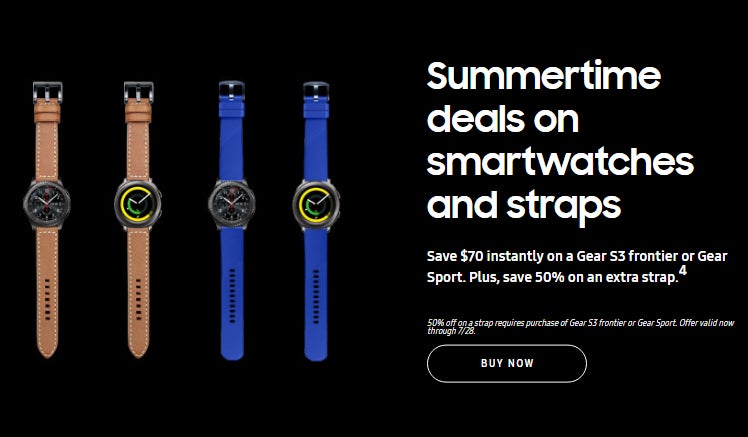 While it's getting ready to announce a new family of smartwatches (called either
Gear S4
, or
Galaxy Watch
), Samsung keeps on offering discounts on its current watches, including the Gear S3 Classic,
Gear S3 Frontier
, and Gear Sport.
The latest smartwatch deal from Samsung allows US customers to buy the Gear S3 Classic or Gear S3 Frontier for $279.99 ($70 off the regular price), and the Gear Sport for $249.99 ($50 off the regular price). Furthermore, while purchasing any of these watches, you can get an additional wrist strap at 50% off. Depending on material (silicone, textile, or leather), a Samsung Gear strap normally costs between $29 and $39. Now, 50% off that may not be much, but this is still a nice deal if you're going to purchase an extra strap anyway.
The new Gear S3 and Gear Sport deal is available from today, July 22, until July 28, exclusively on Samsung's US website via the source link below. The official image promoting this offer (seen above) only mentions the Gear S3 Frontier and Gear Sport, but the Gear S3 Classic is included in the deal, too - we've checked.

Recommended Stories