Samsung Galaxy Tab 10.1 Unboxing
7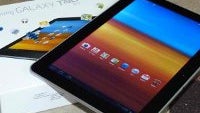 Being one of the few manufacturers to quickly jump into the whole tablet craze last year, Samsung is gearing up for one hot summer now that their updated
Samsung Galaxy Tab 10.1
is ripe for the taking and is looking to make its mark in the industry. Sporting an eye-catching and razor thin chassis, this model will first go on sale in the
US starting tomorrow, June 8th
– albeit, it's only going to be made available in through the Best Buy Union Square store in New York City first.
Considering that Samsung trumped the iPad 2 in terms of overall thickness, we're rather surprised to find a larger sized retail packaging for the Honeycomb flavored tablet. Then again, it's holding within its belly a sizable 10.1" tablet. In any case, an image of the tablet graces the front and back of the box, while some noteworthy specs are mentioned in the rear. Overall, there's nothing rather impressive about its packaging, mainly because we find only the usual set of accessories inside that are fairly standard amongst tablets. These include the customary documentation booklets, proprietary USB cable, wall charger, US plug adapter, stereo headphones, and an extra set of ear buds.
Taking out the actual retail version of the Samsung Galaxy Tab 10.1, we're undeniably mesmerized by its
sleek looks and razor thin construction
– it's truly breathtaking for a moment! Additionally, the same feelings emerge when we power it on for the first time, as the brilliant looking
10.1" PLS-LCD display
magically comes to life thanks to its solid resolution (1280 x 800) and bright output. Unequivocally, it rivals the iPad 2 in terms of overall luminance seeing that it shines ever so vividly when positioned to its highest brightness setting.
Interestingly enough, the final retail version is also
lacking the TouchWiz UI
we saw running on top of Honeycomb that we saw running with the Galaxy Tab 10.1v back at CTIA – thus, presenting us with nothing more than the
stock experience
. Nevertheless, its 1GHz dual-core NVIDIA Tegra 2 processor is providing a smooth experience out of the box with no instances of detrimental lag or slowdown. Needless to say, the landscape is shifting in this competitive environment, but the Samsung Galaxy Tab 10.1 is sure to be one of those tablets that will stand out thanks primarily to its streamlined looks. In the meantime, we'll be testing it out to see how it compares to other Honeycomb tablets we've checked out. Expect our in-depth review in the near future!
Recommended Stories