Samsung Galaxy Tab 10.1 LTE gets TouchWiz update, already rooted
1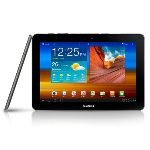 Custom manufacturer UIs may not be your favorite things in the world, but the Samsung TouchWiz UI for Honeycomb is one of the thinnest and most value-packed layers in the Android ecosystem and it will soon be available for the Galaxy Tab 10.1 LTE edition. The update is listed as "coming soon" on the Verizon website, but some users have already gotten the OTA update, which clocks in at a hefty 351MB.
As far as UI changes, the two biggest differences that you'll notice right away are the dedicated screenshot button next to the multitasking button, and the ubiquitous dock tray at the bottom of the screen which adds 6 app links on all homescreens (nothing Apple-esque about that edition, eh?) Samsung has also prettied up some of the stock Android apps, and added a social networking widget and a nicer quick settings panel. There is also reportedly a photo editing app, but it hasn't gotten much praise, and The Daily news app is loaded in.
Behind the scenes, the update adds support for DivX video, Bluetooth 3.0 and Samsung's AllShare DLNA. Definitely a lot of good stuff in this update, and it should be rolling out soon. And, for those of you who may wonder, it has been confirmed that you can root your Tab again with the same tool as before even after applying the TouchWiz update.