Samsung Galaxy S4 to be in stock at RadioShack on April 27
8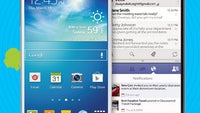 So here's the deal: RadioShack has confirmed that it will be offering the sizzling-hot
Samsung Galaxy S4
, and a batch of units will be available across its retail stores on Saturday, April 27. Two variants of the smartphone will be on display – the one for AT&T, as well as the Sprint variant. Pricing is set at $199.99 for the former and $249.99 for the latter, which is exactly as much as the Galaxy S4 will cost you if purchased on-contract with the respective carrier.
But to sweeten the deal,
RadioShack will be throwing in a $10 gift card
valid towards a future purchase at one of its retail stores. In fact, the $10 bonus is given to any customer spending over $30 at a RadioShack location. This promo will be valid through June 1, 2013. On top of that, customers will have the option to turn in their old phone or other electronic gadget via RadioShack's Trade & Save program and have its value subtracted from the cost of the Samsung Galaxy S4 they are purchasing. Used phones can be turned in for as much as $300 in return.
RadioShack will start offering the Sprint and AT&T Samsung Galaxy S4 models on the same day when they are expected to become available via their respective carriers' web sites and online stores.