Samsung' Galaxy S4 + Pixar's Monsters University = hilarious ad!
17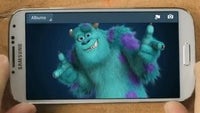 Here's the latest
Samsung Galaxy S4
commercial, this time in cooperation with the new Pixar movie,
Monsters University
. Features of the Samsung's flagship device are displayed with a little help from the furry James Sullivan and the one-eyed Mike Wazowski, the protagonists in the upcoming animated film. Small chunks of Monsters University are used to display the S4's Air Gesture, Smart Pause, Sound and Shot, Group Play and Drama shot.
What's even cooler is that the advertisement ends with a link to a Disney based Galaxy S4 site, in which you can learn more about the flagship's new features via three mini flash games, and if you beat them all (it's not hard at all, believe us) you can win yourself a brand new Samsung Galaxy S4 by participating in the competition. If you are a fan of the Pixar series and Samsung, it's a win-win situation for you.
source:
Android Authority