The new Samsung Galaxy S10, S10+, S10e, S10 5G smartphones are official, here's everything you need to know!
23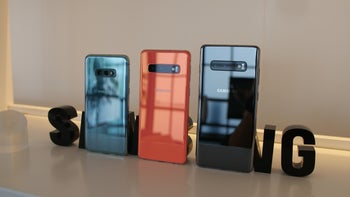 That's all folks, we can finally close down the floodgates that gave us early sneak peeks at everything Samsung had planned on releasing in the first half of the year. The Korean giant just announced the Galaxy S10e, S10, S10+, and S10 5G, its trooper lineup for 2019, and from the looks of it, Samsung is poised to retake its position as the dominant force on the Android scene.
There's plenty to talk about, so we've divided the information into different sections for more convenient reading. You can click on the links below if you want to jump straight to the part that interests you the most!
Galaxy S10, S10+: Samsung's most electrifying flagships yet
No matter how many phones Samsung adds to the Galaxy S lineup, the S10 and S10+ remain the ones that are expected to carry the company to new heights. With the main models from this 10th-anniversary generation, the biggest smartphone manufacturer is going all out! Here's why Samsung's new flagships could help it decisively win the smartphone battle in 2019.
Design
For a fifth year in a row, Samsung relies on premium materials to make up the design of the Galaxy S10 and S10+, employing lots of glass and aluminum in the build of its shiny new phones. Overall, the design recipe that debuted with the Galaxy S6 has been honed to perfection, reflecting on years of refining the formula, and it won't be too far-fetched to say that the S10 and the S10+ Samsung's most beautiful phones to date.
There are lots of design changes this time around though: the war on bezels has forced Samsung to resort to the unconventional hole-in-display approach to accommodate the selfie camera of the Galaxy S10 and the dual-selfie shooter of the S10+. This last obstruction has allowed Samsung to achieve a mind-boggling screen-to-space ratio of more than 93% on the S10+. The Galaxy S10 and S10+ also ditch the old-school fingerprint scanners for in-display supersonic one, which shouldn't be mistaken with the optical fingerprint sensors that made the rounds on the Huawei Mate 20 Pro and the OnePlus 6T - Samsung's take on the matter should theoretically be faster and more secure.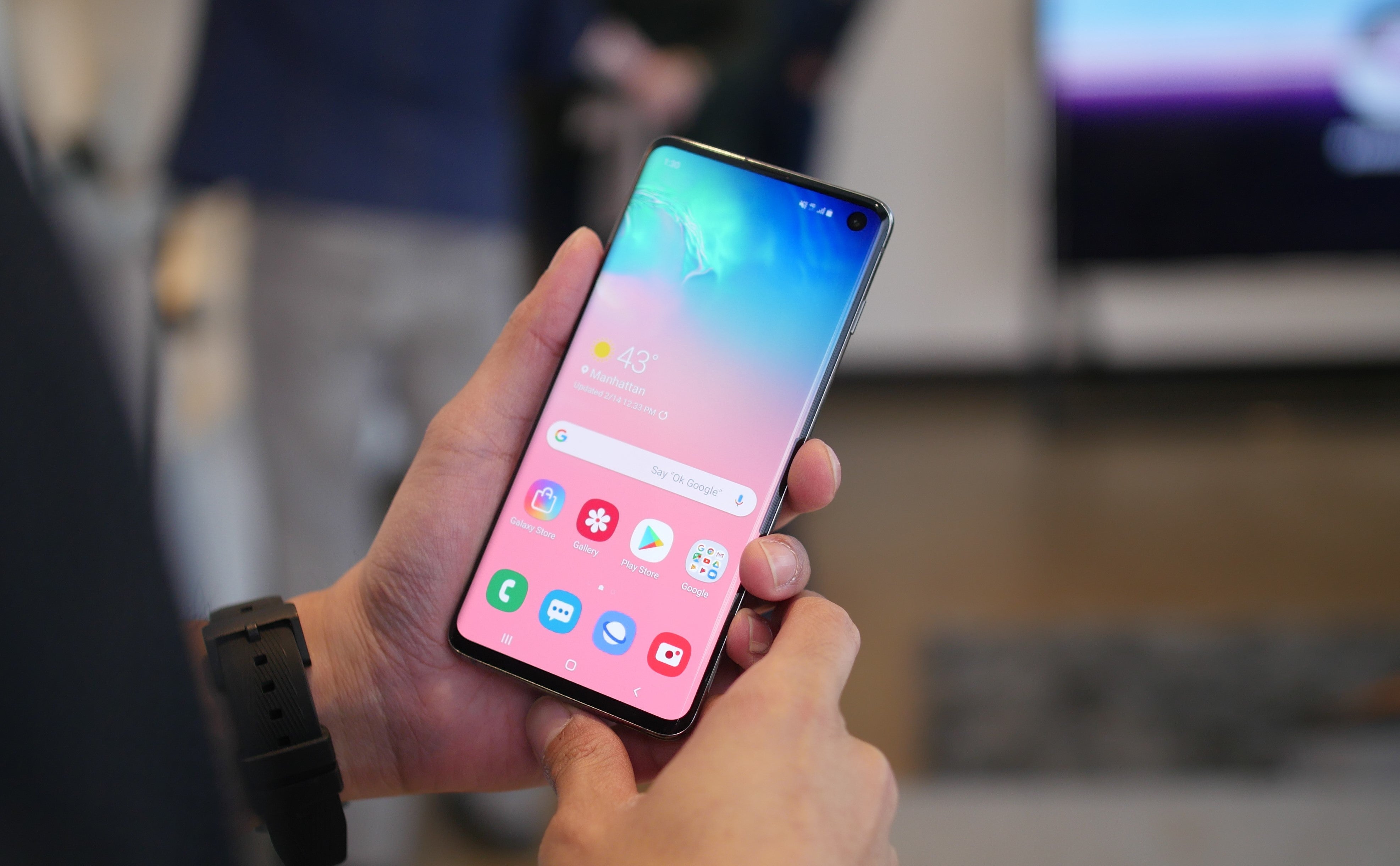 Features

Die-hard Galaxy fans will certainly appreciate some recurring hardware features that have all but disappeared on most contemporary flagships - the Galaxy S10 and S10+ are the last holdouts of microSD-expandable storage and 3.5mm audio jacks, remnants of a bygone era. Finally, stereo speakers, a USB Type-C port, IP68 water-resistance, and a dedicated Bixby button are included in the mix as well.

In terms of colors, the S10 and S10+ will be available in Prism White, Prism Black, Prism Green, Prism Blue, Canary Yellow and Flamingo Pink. The green shade will remain an exclusive for the international version of the phone, but rest assured all others will be available in the US. The S10+ will also score a posh Ceramic White and Ceramic Black versions which will boast improved durability and protection against scratches and scuffs. Neat stuff!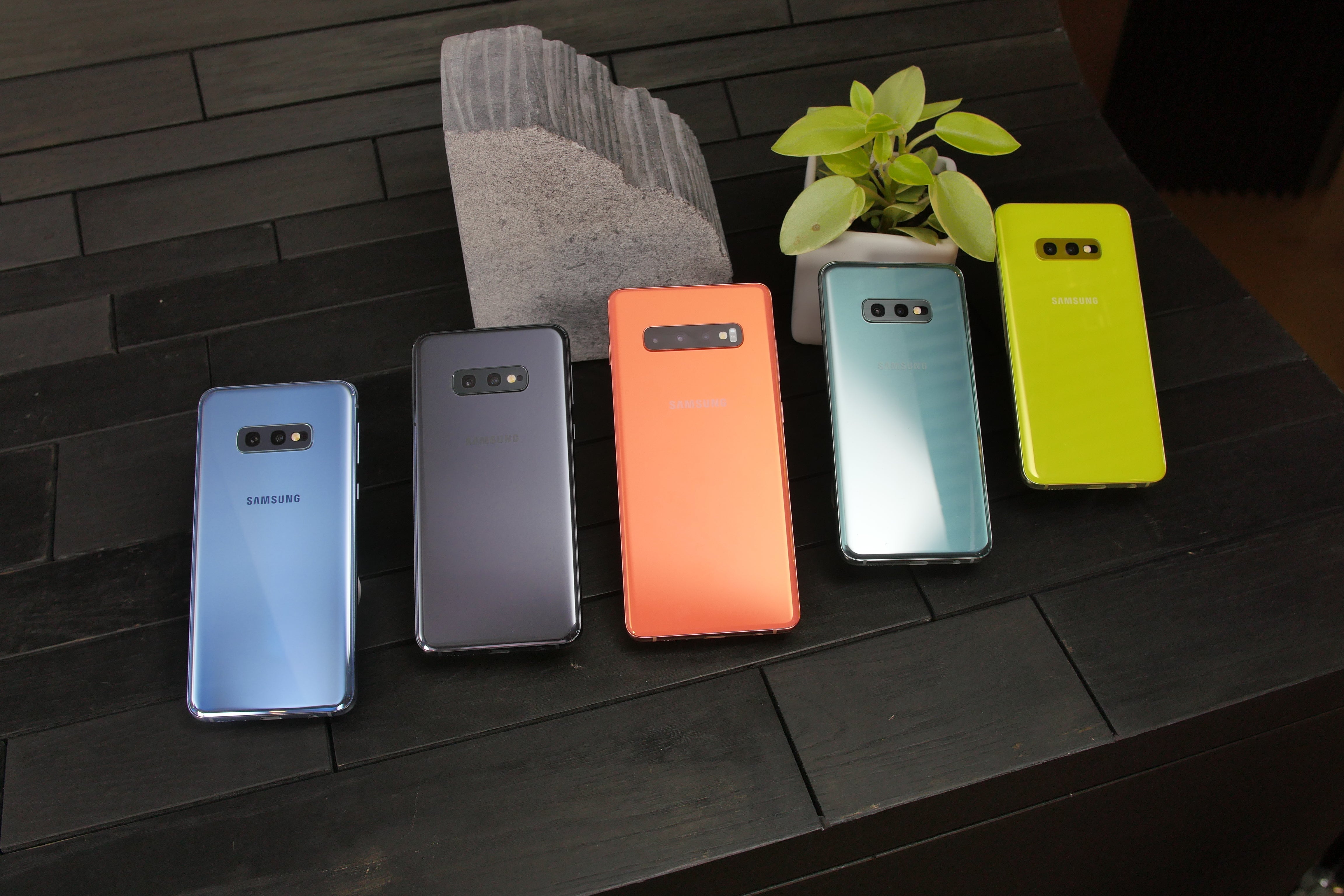 S10 and S10+ Hardware
Kicking things off with the displays of the top-shelf phones, we have 5.8-inch and 6.44-inch "Dynamic" Infinity-O AMOLED displays on the Galaxy S10 and S10+, respectively. With QHD+ resolution and 19:9 aspect ratio, the displays are also HDR10+ certified and are said to offer marvelous outdoor visibility and unmatched color accuracy. Judging from our past experience, the latter part should be true, but we'd like to test this ourselves before we hand out our verdict.
Powering the whole shebang (in the US, at least) is Qualcomm's crown jewel - the 7nm octa-core Snapdragon 855 chipset. It trots along with four efficient 1.8GHz Cortex-A55 cores, three performance 2.4GHz Cortex-A76 ones, and a single high-performance 2.84GHz Cortex-A76 core. We have high hopes for this chipset, as it's supposed to be as efficient as it Is powerful. The gaming experience should be quite impressive with both phones as they are optimized for the Unity Engine and support Dolby Atmos for gaming, but the Galaxy S10+ definitely takes the cake here as it comes with vapor chamber cooling for lower temperatures while owning newbies at Fortnite.
Meanwhile, the international version of the phone will come along with an Exynos chipset, as is tradition.
The Galaxy S10 will be available with 6 or 8GB of RAM and 128 or 512GB of storage, respectively. The Galaxy S10+ comes with 6, 8, or 12GB of RAM and 128GB, 512GB, and 1TB of native storage. All versions come with microSD card slots for further expansion, though we doubt anyone will ever find the need to do so on the one-terabyte version
Samsung promises 24+ hours battery life with both the S10 and the S10+, which are coming with 3,500mAh and 4,100mAh batteries, respectively. battery for also outfitted with reverse wireless charging that is capable of charging other Qi-enabled devices.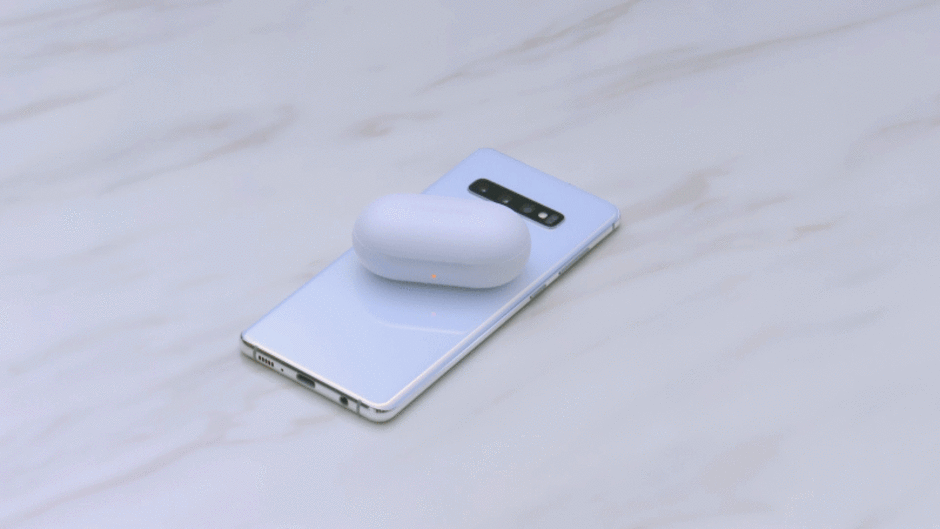 Camera
Ah, the most interesting part!
Both the Galaxy S10 and S10+ will have a triple-camera setup on the back. It consists of: a regular 77-degree 12MP sensor with an F1.5/F2.4 variable aperture, a 12MP 2x telephoto snapper with a 45-degree viewing angle and a fixed aperture of F/2.4 (both of these are optically-stabilized) and an ultra-wide 16MP camera with a 123-degree viewing angle and a fixed F2.2 aperture. This one lacks OIS though.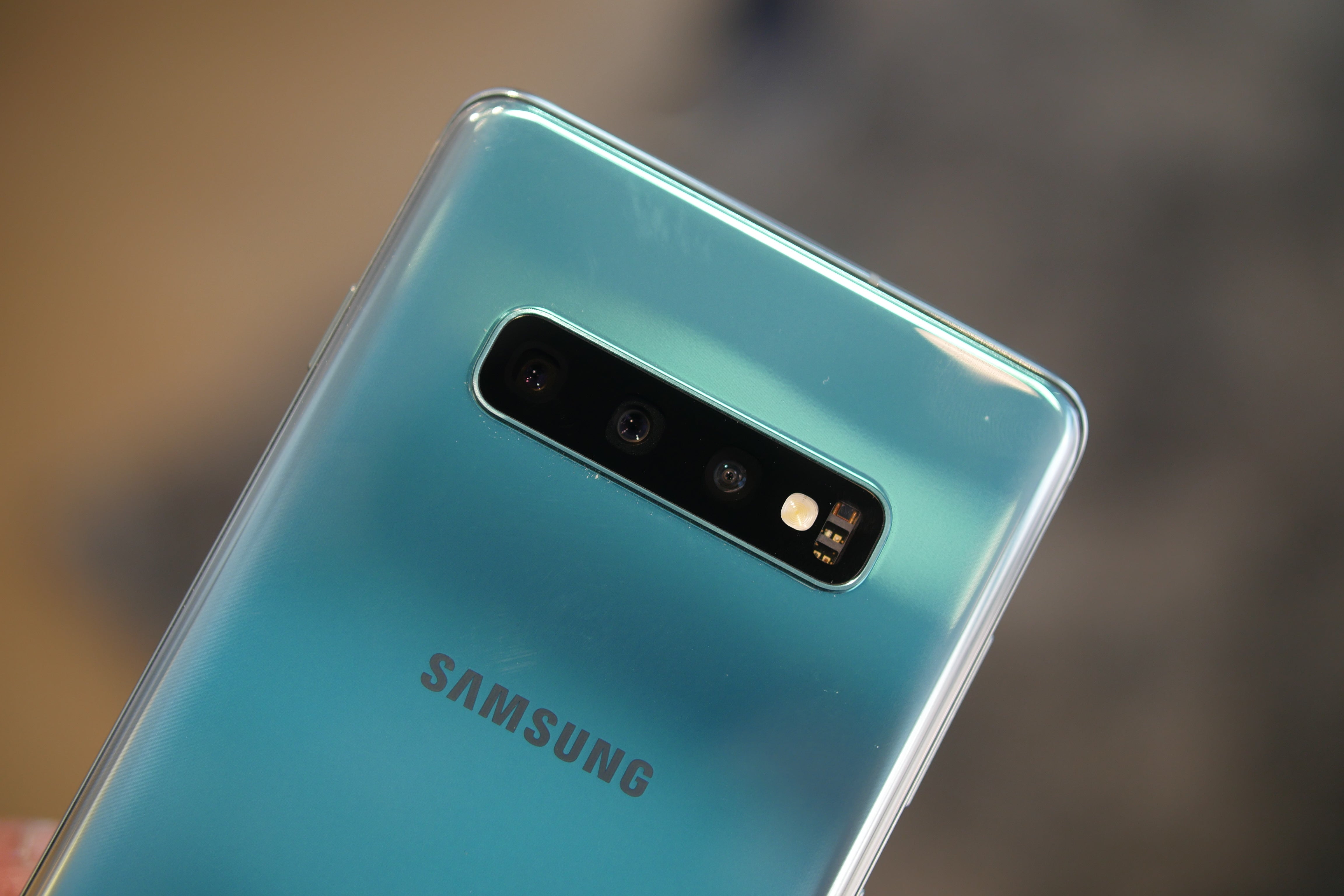 At the front of the Galaxy S10, nestled in the tiny punch-hole in the upper right corner, is a 10MP selfie camera. So far, so good, but Samsung also throws in optical image stabilization and 4K video recording in the fray as well, which is most certainly a "first" for mobile phones which have hardly emphasized front video so much. The S10+ carries the same camera but adds up another sensor for depth, which would allow for better portrait mode selfies.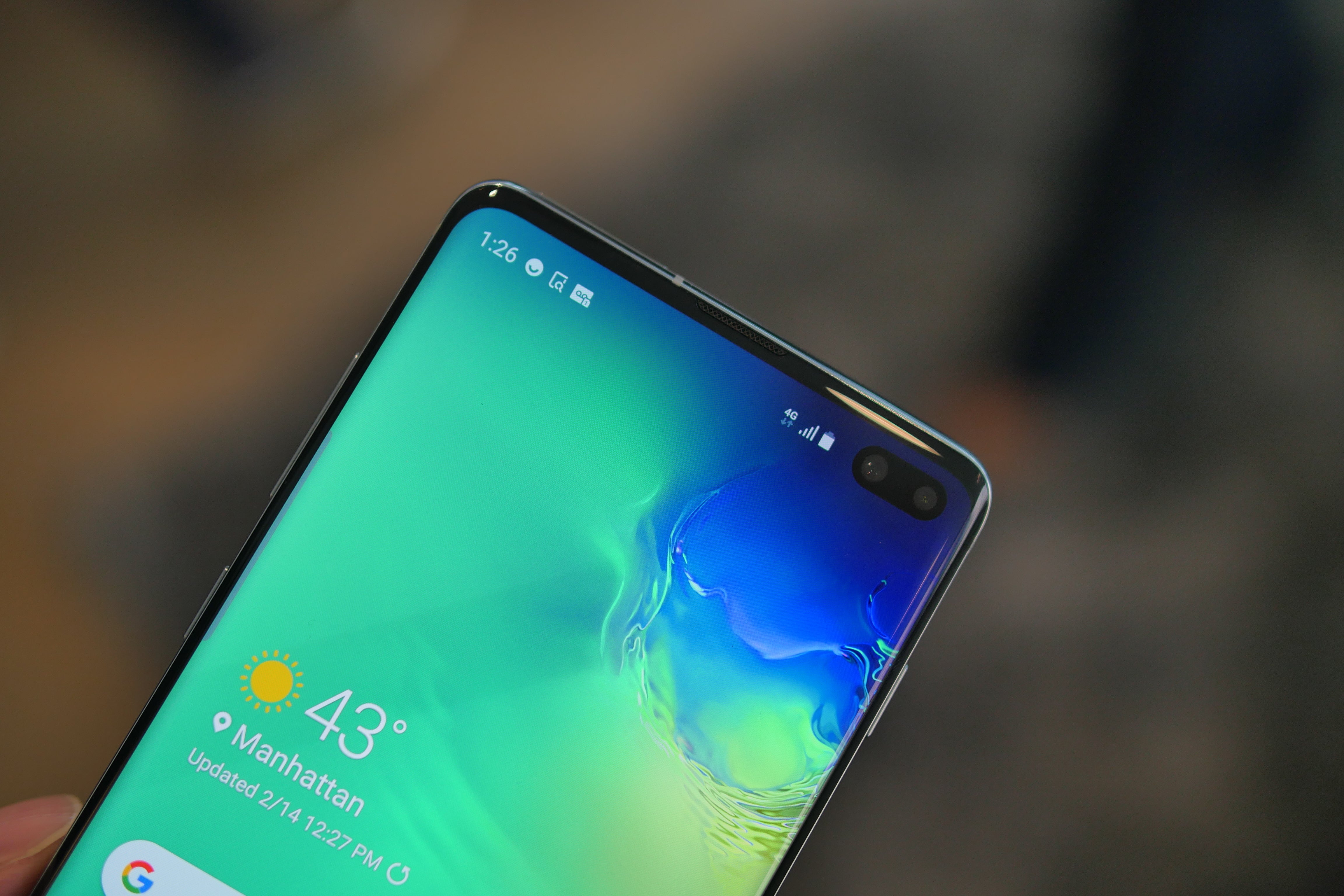 However, despite the hardware prowess, Samsung's flagship phones have almost always struggled to be at the top of the game mostly due to their cameras' software algorithms. Others, like Google and Huawei, are arguably doing a better job at squeezing the best possible image quality from their flagship cameras. We are pretty pumped to test out the Galaxy S10 and S10+ and see for ourselves if Samsung has finally cracked the code guarding the secrets of truly awe-inspiring mobile photography.
Software & connectivity
Android Pie with the flashy new OneUI on top is running the show on both the Galaxy S10 and S10+. The new interface is designed with usability in mind and allows for intuitive interaction with almost all stock Samsung apps and menus.
Bixby 2.0 is an integral part of the interface once again, though we doubt Samsung has finally caved in an allowed users to reprogram the Bixby key to another function or voice assistant.
In terms of connectivity, both phones are LTE-enabled and boast no 5G functionalities as the latter is a key selling point of the larger Galaxy S10 5G. Wi-Fi 6, also known as Wi-Fi 802.11ax, is available on both flagships though.
Now time to move on to one of the two new members of the Galaxy S family, the smaller S10e:
Samsung Galaxy S10e: top performance in a compact body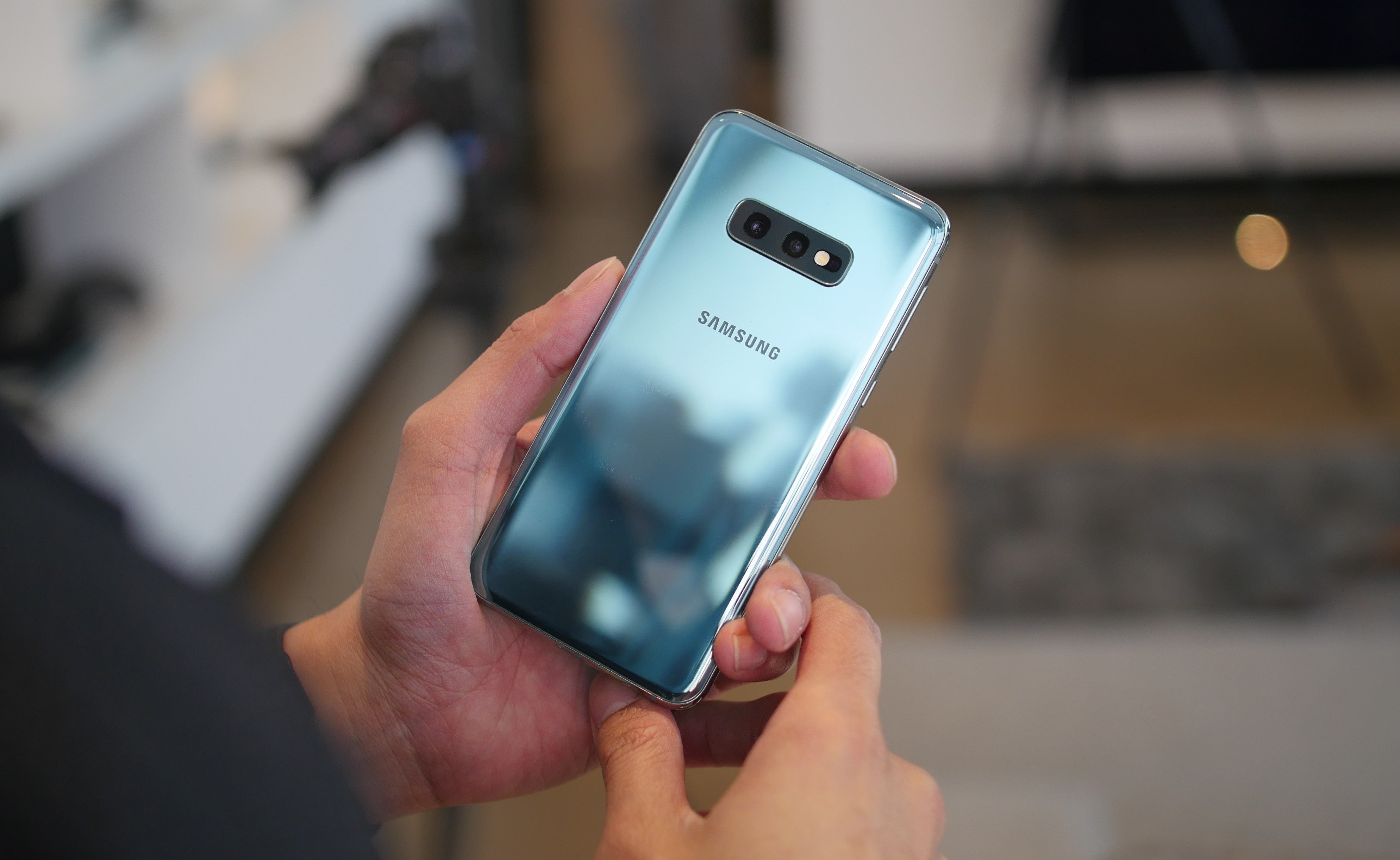 There's no reason to act surprised, this new addition to the Galaxy line has been the talk of the town for a while. But now, finally, we can put all the guesses, rumors and leaks aside, so we can focus on the real deal. There's plenty to talk about this new device, so let's start with the outside and delve within later.
Design
The front of the Samsung Galaxy S10e is entirely taken up by the Infinity-O AMOLED display and its thin border. If you're not familiar with Samsung's display naming scheme, Infinity-O refers to the hole for the front-facing camera, which is tucked away in the upper-right corner.
The display is also one of the main differences between the S10e and its bigger siblings. Not only is the display the smallest among the bunch with its "humble" 5.8-inches, but it lacks the curved side edges that the S line has become known for the past few years. Whether the flat display is an advantage or a drawback is mostly up to individual taste, as both types have their fair share of fans.
Despite the lower price of the Galaxy S10e, there haven't been any compromises with the display. It has a 1080x2280 resolution, the latest scratch-resistant Gorilla Glass 6 and, of course, support for HDR.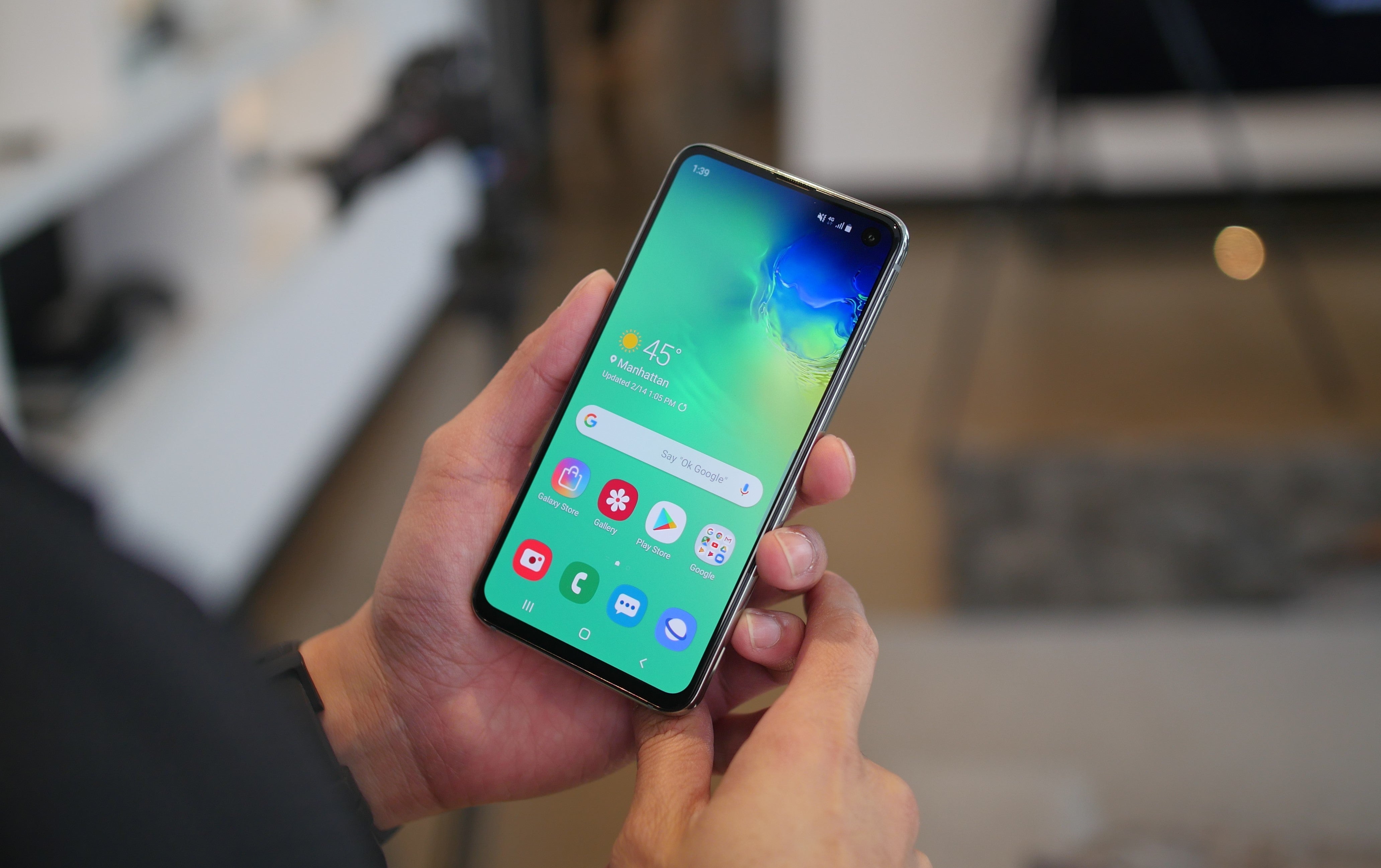 The wallpaper is cleverly hiding the display hole
Features & Cameras
However, don't expect to find an ultrasound fingerprint reader under that display, because for the S10e it's been replaced with one far up on the right side of the device. A decision that sparked heated discussions among tech enthusiasts, but ultimately might be justified by the phone's smaller size.

On the back of the device, we can see the dual-camera setup looking at us like a pair of eyes. There's nothing too remarkable about it, in fact, the Note-9-like design of the camera assembly seems a bit boring for what's meant to be a more casual, hip device. Either way, it includes a 12MP dual aperture camera (F/1.8; F/2.4) with optical image stabilization, alongside a 16MP ultra wide angle one.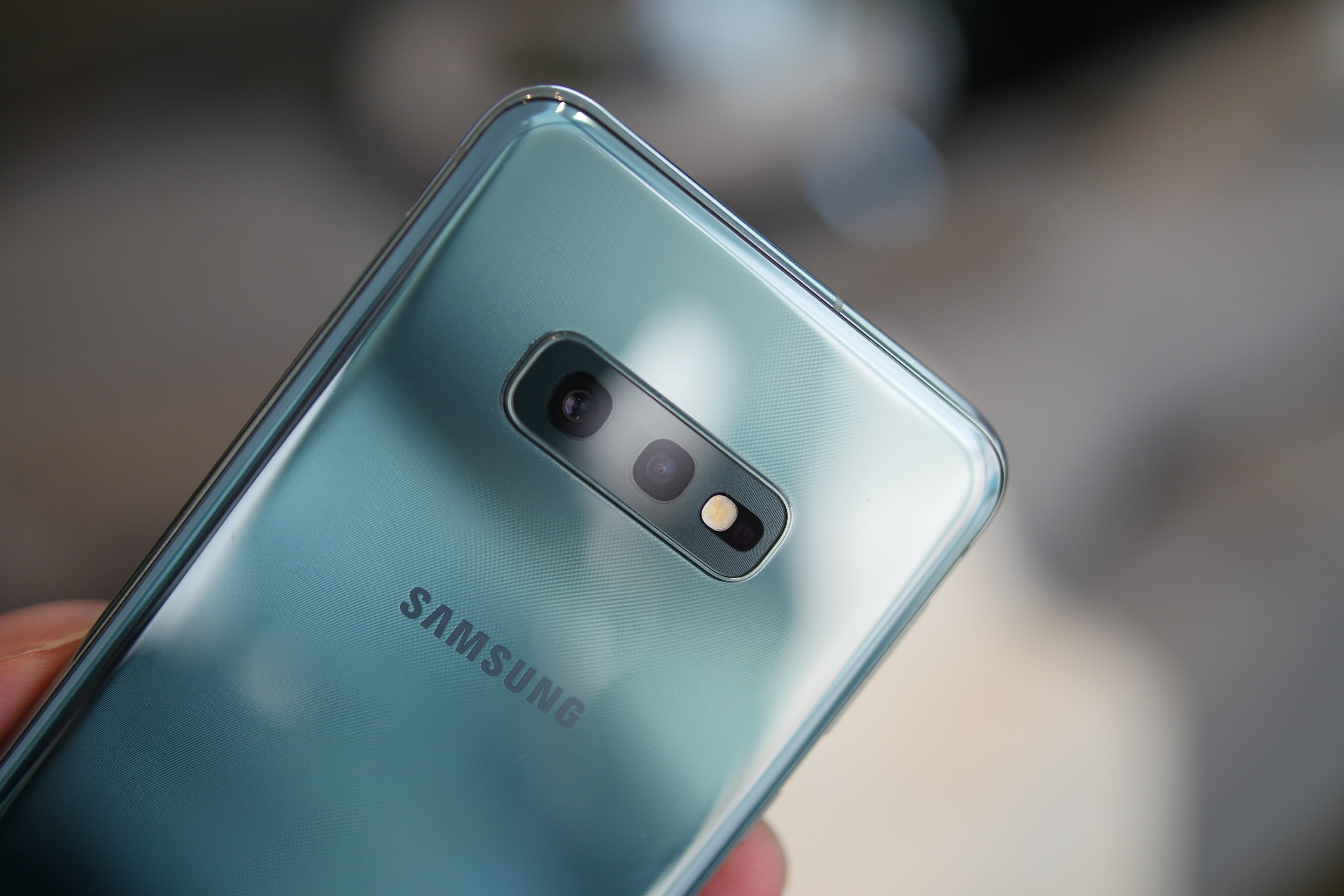 The setup is one sensor shy from that of the S10 and S10+, but should still satisfy most users. On the front, you can find the same 10MP camera as with the rest of the lineup.

Another feature that we're happy to see in the "mini" S10 as well is the micro SD card slot for expandable storage. Of course, you also get a couple of other features now standard for Galaxy S phones, IP68 water-resistance and a USB Type-C port for charging and data transfer. And last, but not least, the 3.5mm headphone jack is still here, refusing to let go of Samsung's flagships and bringing joy to those still clinging to their analog headphones.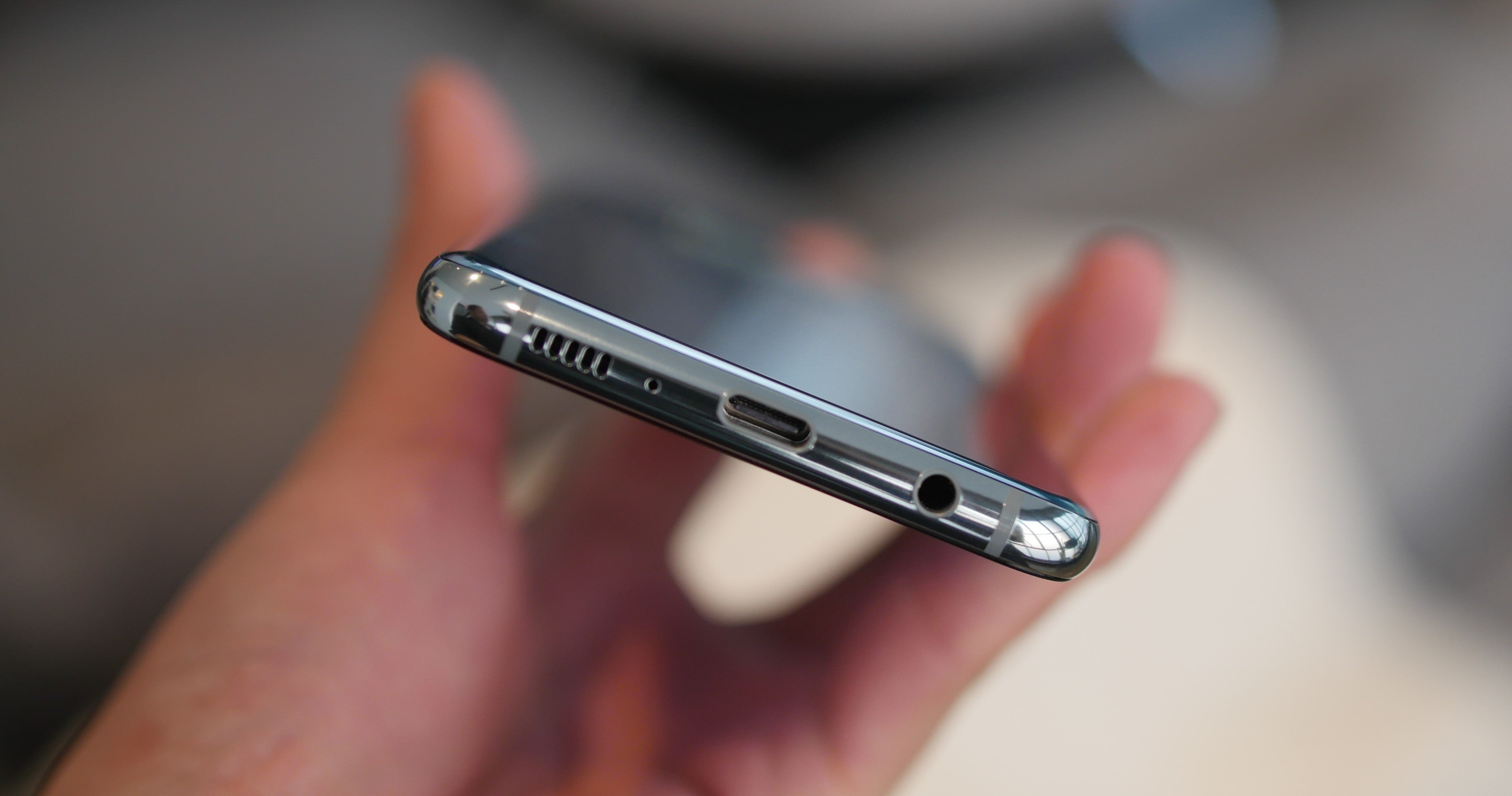 What a sight to behold!
Now let's see what else is hidden inside this fancy body!
S10e Hardware & Software
The Galaxy S10e's subtle design does little to hint at the power the lies within it. Powered by the latest high-end Snapdragon 855 System-on-a-Chip that can also be found in the other S10 phones, the S10e is as fast as you can get. The 855 is Qualcomm's first chip using the 7nm manufacturing process, which leads not only to better performance but also lower power consumption. We've already seen benchmark results from it and they are impressive. Having the most powerful chip in a compact body (relatively speaking, of course) is something many people want and now they have it! The Galaxy S10e will back that powerhouse of a chip with either 6GB of RAM and 128GB of storage, or an 8/256 combo respectively. Both options should cover the needs of the average user quite nicely.
On the software side, the phone will be using Samsung's new One UI that comes with the manufacturer's version of Android Pie. The new interface is a complete revamp not only design-wise but when it comes to functionality as well, making it more user-friendly and intuitive.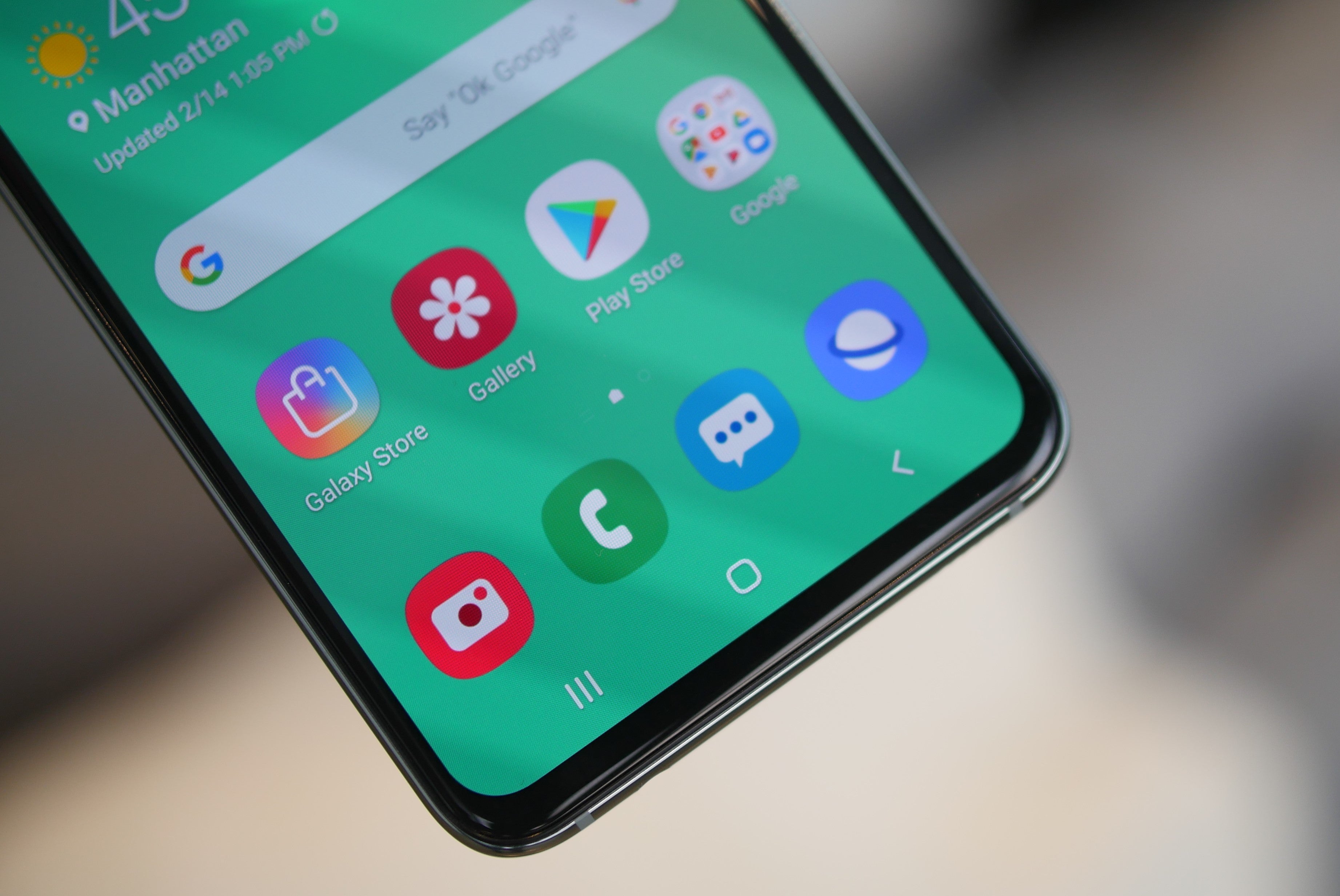 Don't worry, Samsung changed more than the icons!
The S10e has a couple more tricks up its sleeve! Samsung has been using the feature scissors very sparsely when designing the smaller sibling of the flagships, so you're not only getting wireless charging on it, but also the brand new (at least for Samsung) reverse-wireless charging feature, which allows you to transfer some of the S10e's power to another smartphone or any compatible device, such as the company's new wireless earbuds. Of course, with the S10e this function is not as useful due to the smaller battery capacity it comes with (3100mAh), but it's still a nice extra to have.
When it comes to connectivity, the S10e is no different in any way than the S10 and S10+, carrying the same networking components as the bigger versions: Wi-Fi 6 (Wi-Fi 802.11 ax), LTE Cat. 20 with up to 2Gbps download speeds and Bluetooth 5.0. Do we even need to say it has NFC? Fine! There's also NFC.

That's the quick overview of one of the new additions to the S10 lineup, the other is on the exact opposite end of the spectrum: the mighty S10 5G version. Read what it's all about below!
Samsung Galaxy S10 5G: Getting ready for a 5G future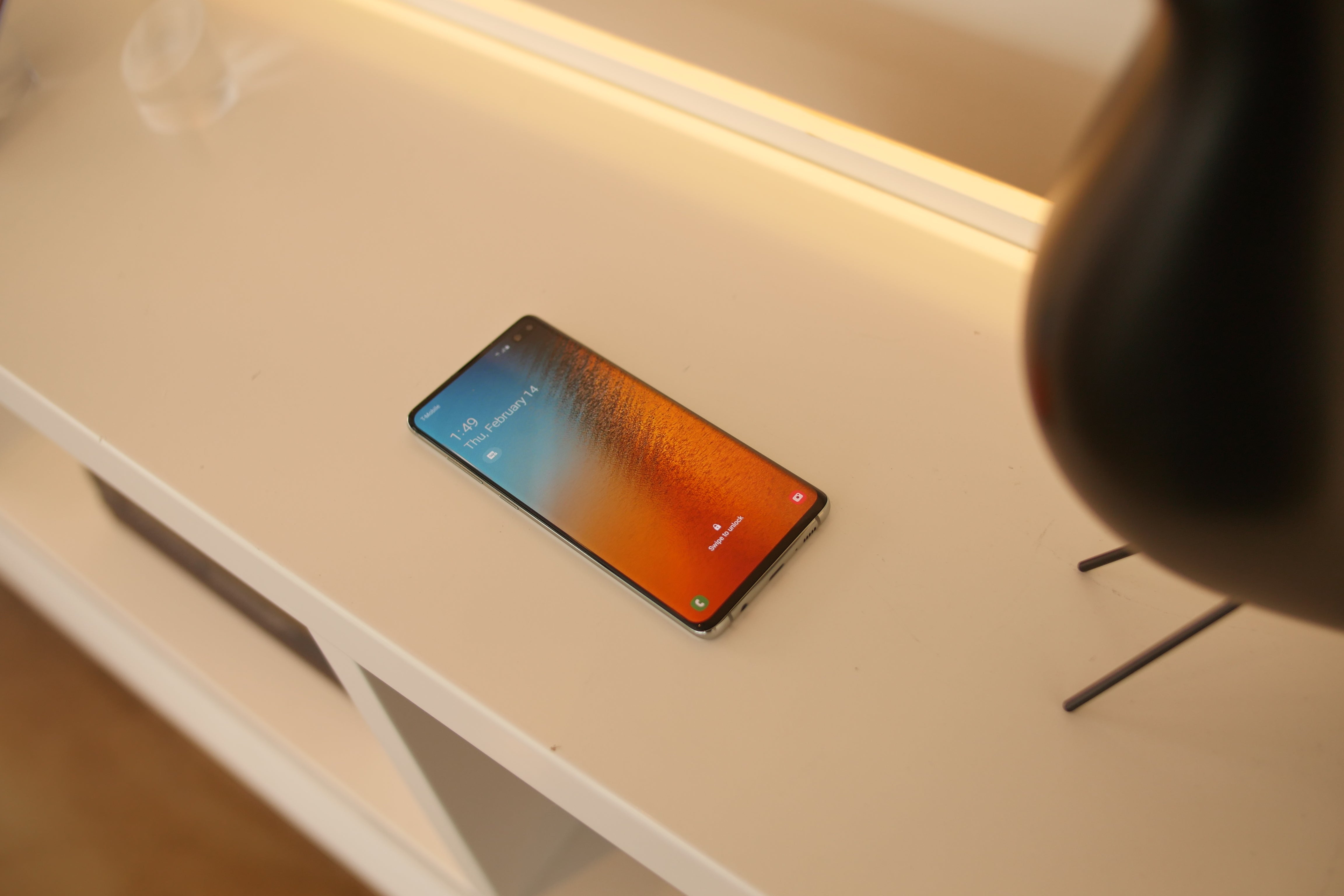 The three new Galaxy S10 phones are all special in their own right. However, Samsung is launching yet another variant — one aimed at the enthusiasts, the power users, those that demand to have the absolute bleeding edge of tech in the form of a smartphone. That would be the Samsung Galaxy S10 5G version.
As the name might suggest, one of the main features to differentiate this phone is its 5G modem. It's among the pioneering devices to support this network, making it as future-proof as it can be on launch.
But 5G isn't here just yet.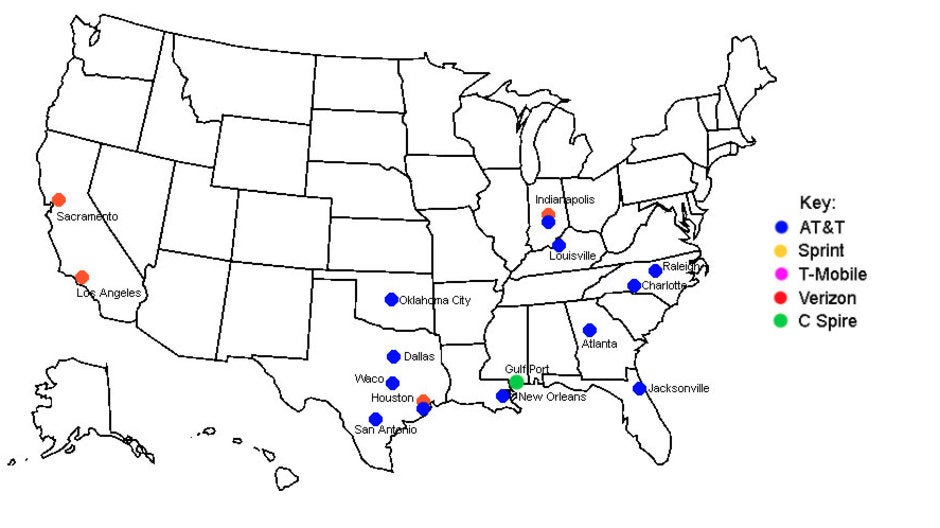 5G coverage map by cellularmaps.com
The world has slowly been preparing for the next generation of mobile data transfer for a couple of years now. 5G will allow for faster data transfers, reduced latency, and more energy-efficient connections than the current LTE standard.
Carriers around the world are currently in the process of slowly rolling out their own support for the new standard. In the USA, all four major carriers have began deployment in a small number of cities and areas. It is believed that 5G's global spread will have a serious expand some time in 2020 and that it'll be available to 40% of the world's population by 2024.
In other words, the Galaxy S10 5G isn't really a "must buy" if you go by its modem alone. But it has more aces up its sleeve!
Adding more features to the pile
You thought the Galaxy S10+ has a large display? Well, let the Galaxy S10 5G crank the size up to 11. It comes with the largest Infinity Display on a Samsung Galaxy S ever — a dual-curved AMOLED slab with a diagonal of 6.7 inches and an aspect ratio of 19:9.
The biggest Galaxy also makes good use of its room — it'll house a 4,500 mAh battery to hopefully keep the lights on for a long, long time.
And while the 5G variant will, sadly, be limited to a single choice of 256 GB of storage and 8 GB of RAM, you will get an extra camera on the back. That's right — a 4th lens!
"What's the 4th camera for?", we hear you asking.
ToF camera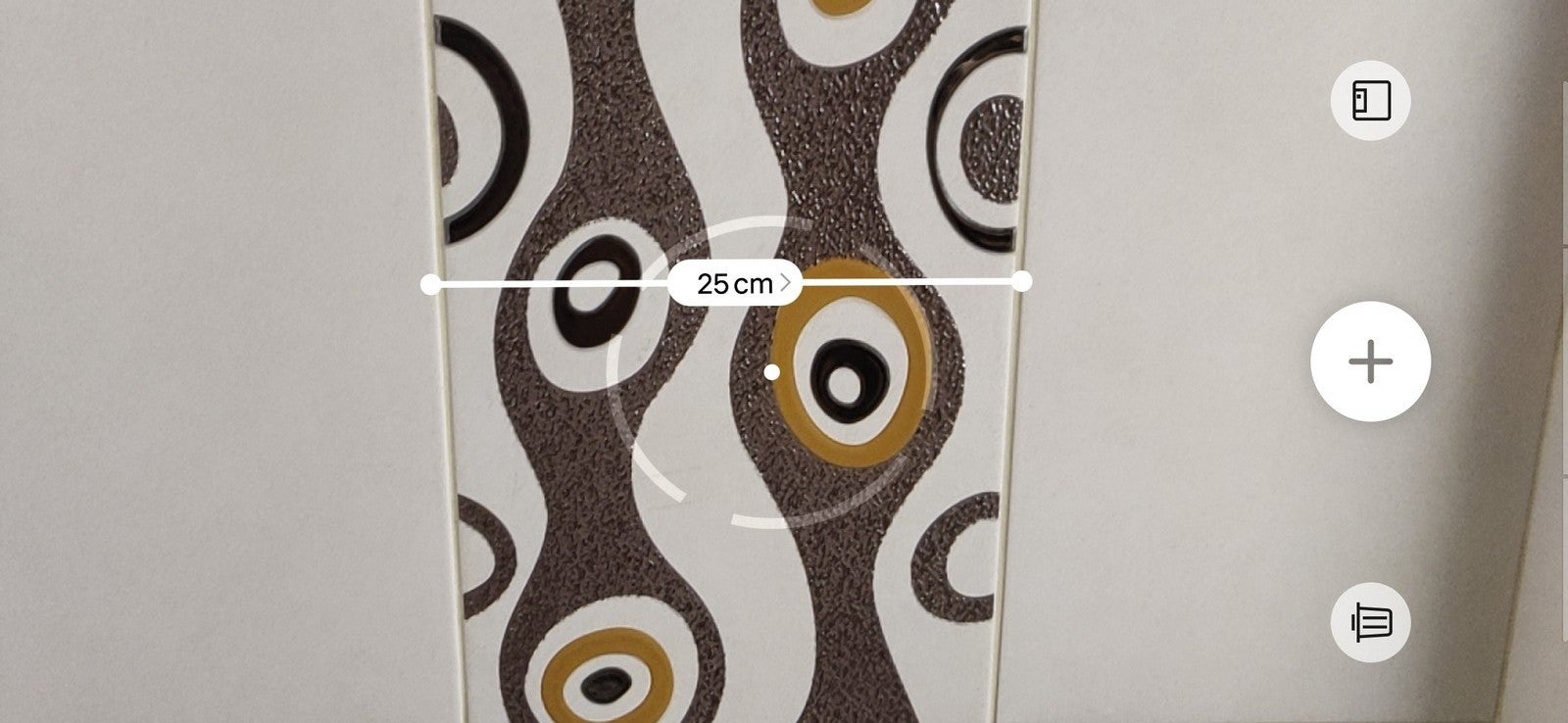 Augmented Reality has been a buzzword for a while — a ton of manufacturers have dropped VR and are now focused on developing better, faster, more accurate AR modules. You know — the ability to use your phone as a virtual ruler, hunt Pokemon with your viewfinder, or take a photo of your friend posing next to a virtual stormtrooper. Then, there are the cooler applications like 3D scanning an object and storing it as a digital file, possibly to use for modeling or 3D printing later on.
Well, one major issue with AR is its accuracy. Up until now, manufacturers have used various methods, such as laser measurements for distance and dual cameras for depth perception. The ToF (Time of Flight) camera is the next generation, here to smash all previous attempts to the ground.
The module can map up to 300,000 points at a distance of up to 10 feet. This means it can detect a whole lot of objects and peculiarities within a room in no time and then place overlay the AR components much more accurately than we've seen thus far.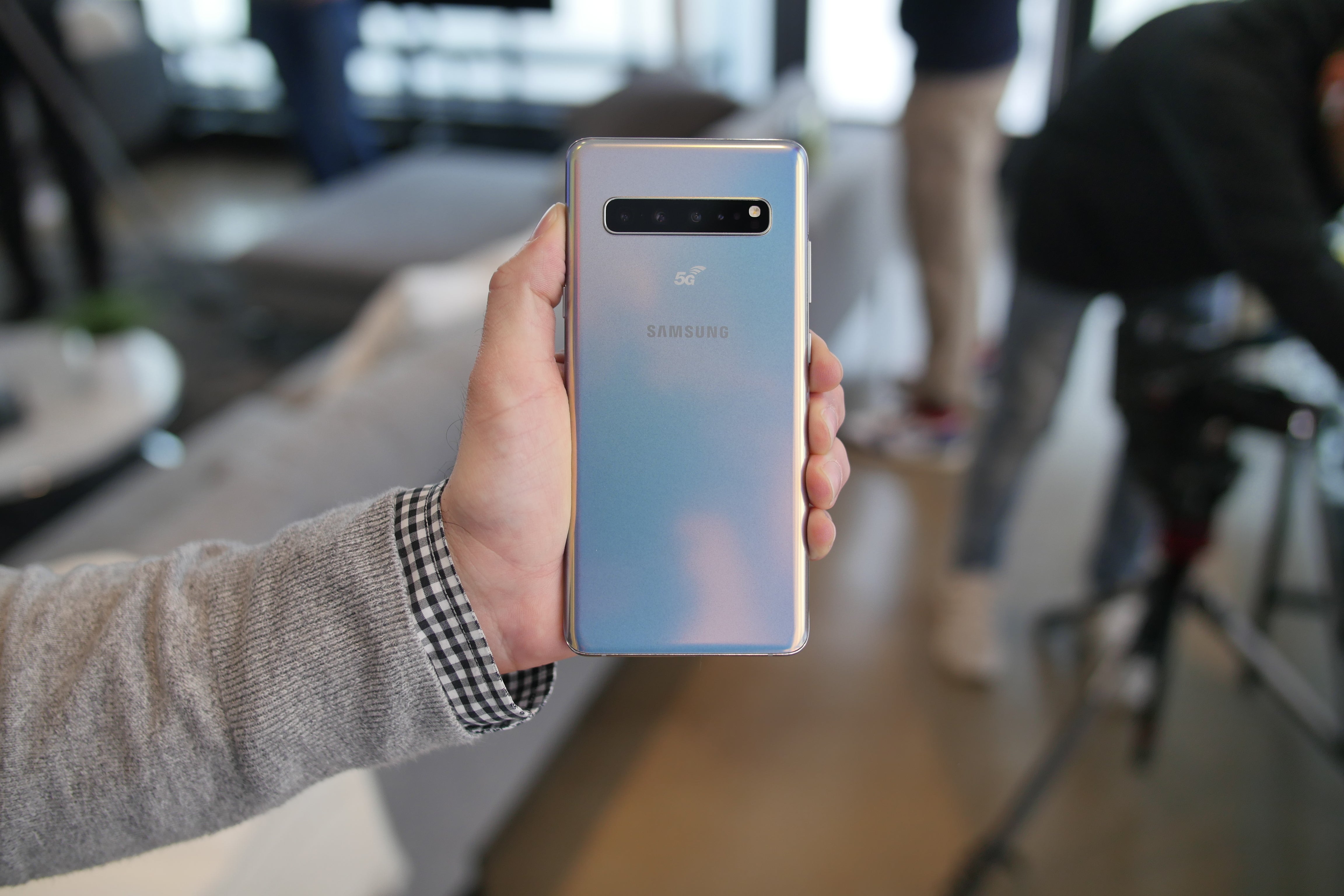 This would mean digitally testing how certain furniture works in your room, the possibility to "try out" clothes, or control your phone by gesturing, sort of like you would with a Microsoft Kinect.
The possibilities are... quite a lot. Cue "We can't wait to see what the developers are going to do with it!".
As for the rest of the cameras — they are the same ones found on the Galaxy S10 and Galaxy S10+ — a 12 MP main camera, 12 MP telephoto portrait camera, and 16 MP wide-angle shooter. The former two will be assisted by an optical image stabilizer on each.
Will I be able to use the Galaxy S10 5G on an LTE (4G) network?
Just in case you were wondering — if you fork out for this beast of a phone but don't have 5G in your area yet, you will still be able to use it. Just like how your current phone works on LTE but can also support 3G or EDGE in rural areas, so can the Galaxy S10 5G hop on to previous generation lines. No worries!
Prices and release dates for the Galaxy S10, S10+ and S10e
Samsung definitely surprises with the pricing for the Galaxy S10 and S10+: sure, there's a price hike, but the S10 and S10+ are still undercutting their contemporary rivals.

The 8GB/128GB version of the Galaxy S10, which is the base one, is launching at $900. This pricing severely undercuts Apple's iPhone XS, which boasts a $1000 price tag for its most basic, 64GB version.

Meanwhile, the base 8GB/128GB version of the Galaxy S10+ is set to launch with a 1000-dollar price tag. That is certainly a very competitive price: it's less than what Apple's asking for its 64GB iPhone XS Max (which starts at $1,099 and could go as high as $1,449).
The new Galaxy S10e, on the other hand, is priced exactly the same as Apple's iPhone XR at $749 for the 6Gb/128GB version. It's no wonder parallels between the two devices are drawn constantly, those will likely be the go-to "affordable" flagships for iOS and Android for the next few months.

Pre-orders for all three models are going live tomorrow, February 21, and customers who have already reserved a Galaxy S10/S10+ have had the chance of trading-in their old phone and getting up to $550 off the price of their shiny new Samsung flagship. For a limited time, pre-orders of the S10 and S10+ in select markets are also coming with a pair of Samsung's new Galaxy Buds wireless earphones (priced at $130). The devices will be available for purchase from stores and online retailers starting March 8, meaning you should expect your pre-ordered device to be delivered around that date as well.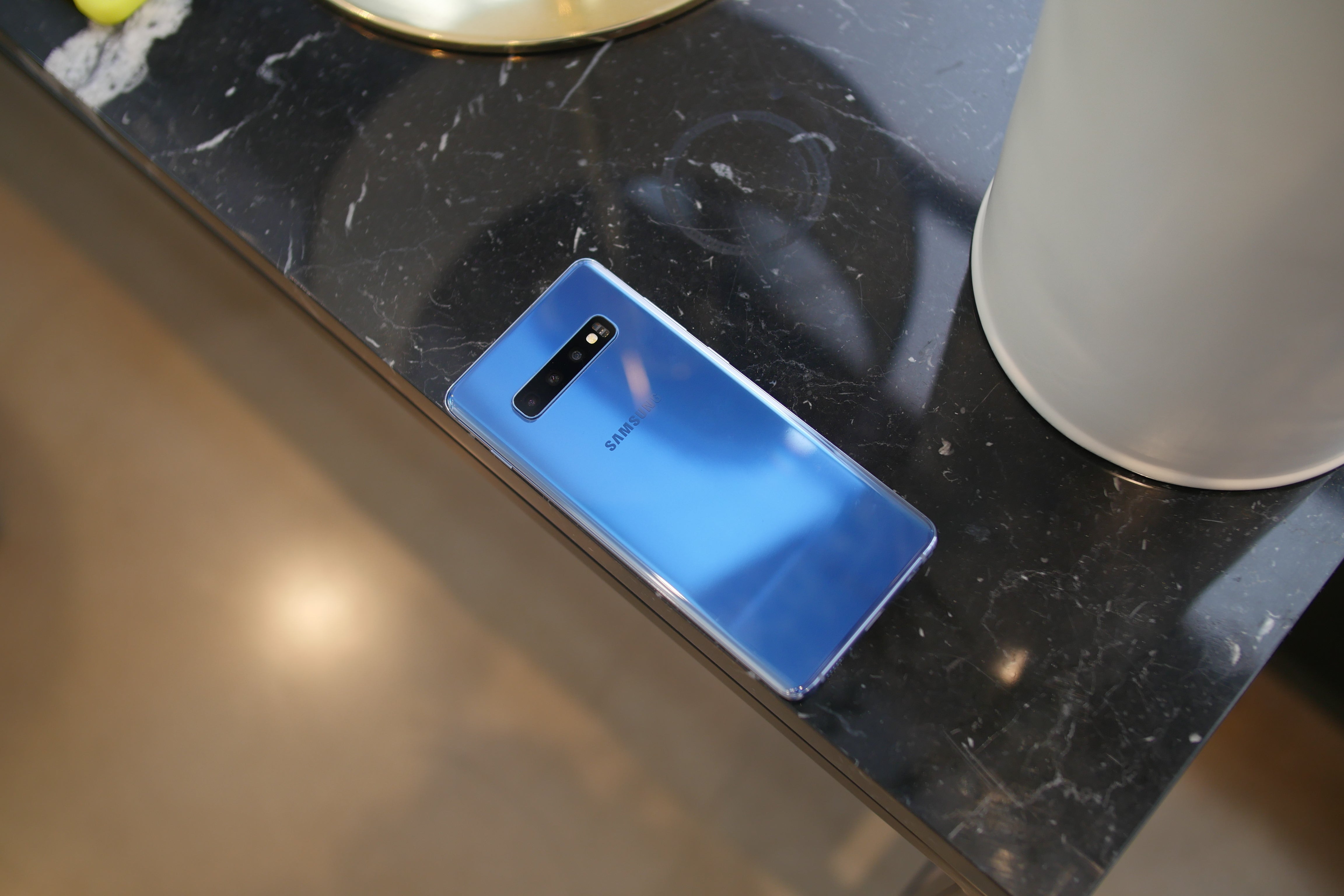 You're probably wondering where the pricing for the 5G model is. For now, Samsung hasn't released any information about its pricing or availability. It'll be a Verizon exclusive for a limited time, coming at some point in the first half of 2019, so if you are not on Big Red, you won't be able to grab this jewel of tech for some months. As for the price, based on rumors, we can probably expect between $100 and $200 premium on top of the price of the Galaxy S10+.
Galaxy S10e vs Galaxy S10 vs Galaxy S10+: what are the differences?
Whoa there, Samsung! That's four major phones announced on the same day! Give us a breather here!
No rest for the wicked? Fine, let's try and make sense of this beautiful mess!
The Samsung Galaxy S10 and Galaxy S10+ are to be considered the direct successors of last year's Galaxy S9 and Galaxy S9+. Their displays have grown a bit, thanks to the Infinity-O technology, and they gained an extra camera. But, at their core concept, they carry the same idea and the same spirit. It's the best consumer-oriented phone that Samsung can offer, available in two sizes to cover different needs.
With the small exception that their price has been bumped up. The Galaxy S10 now starts at $900, while the base Galaxy S10+ will cost you $1000. For the sake of comparison — last year's Galaxy S9 started at $720, and the S9+ was $840.
The Galaxy S10 and S10+ differ very little. Obviously, the Plus has a slightly larger display and a noticeably bigger battery. The S10+ is also the only model to come in a variant with 1 TB of storage and 12 GB of RAM.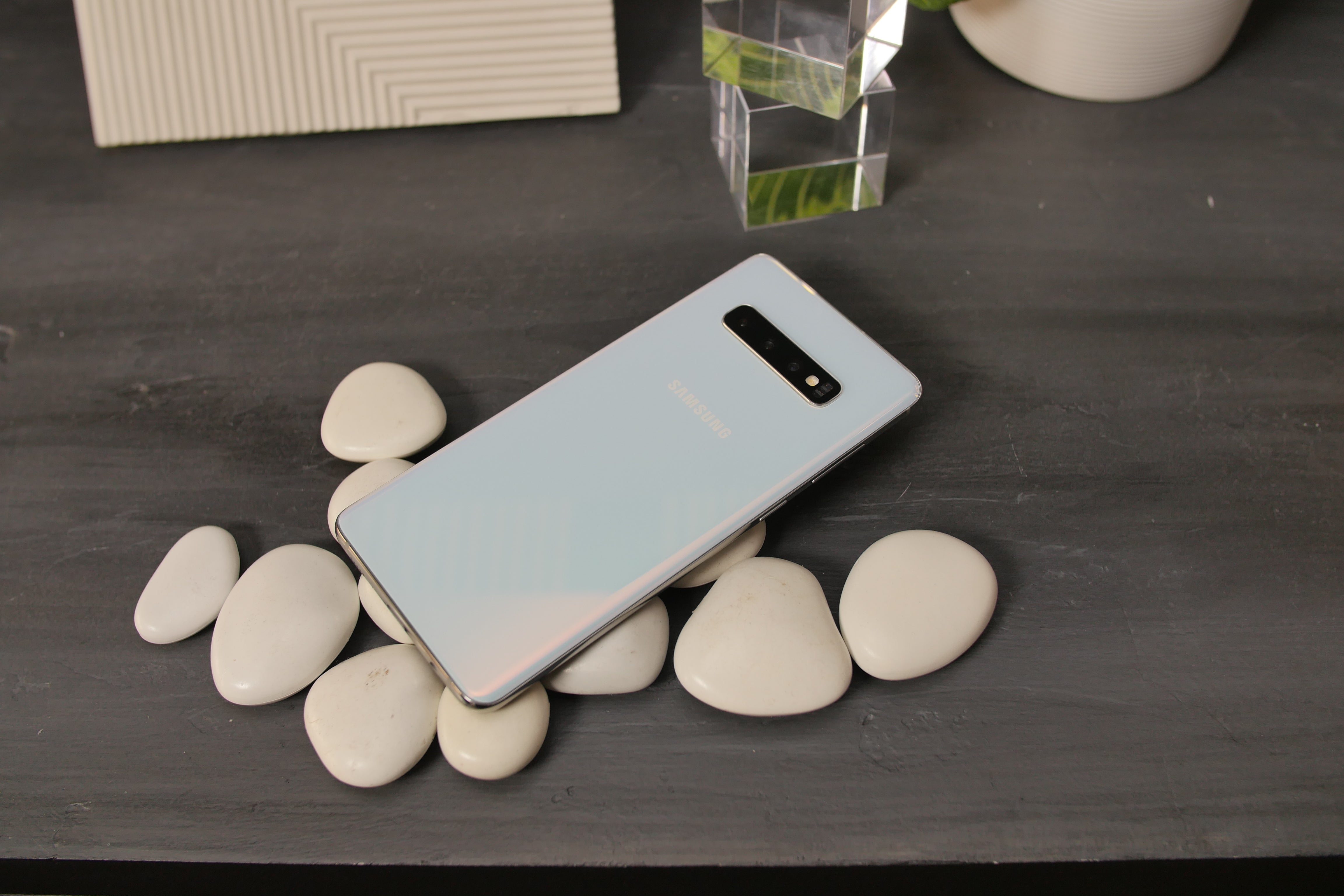 Otherwise, both of these siblings have the same processor, same triple camera module, an ultrasonic fingerprint sensor, and stellar looks.
Then, there's the Galaxy S10 5G, which may not have a "+" in its name, but is actually the biggest of the batch. With a huge 6.7-inch AMOLED display, it's definitely going to bring back the "phablet" buzzword. It makes good use of the extra space, too, having a gargantuan 4,500 mAh battery inside and an extra lens on the back for its ToF camera.
The Galaxy S10e was introduced as the value-priced option. In other words — the one with a "normal" flagship price. It starts at $750, being only slightly more expensive than last year's S9. Of course, it misses out on a few cool features that the Galaxy S10 and S10+ have.
But fret not, the Galaxy S10e actually has the same powerful hardware as its bigger siblings! Here's the most important specs of the three main models in a nice, handy table:
| | Galaxy S10e | Galaxy S10 | Galaxy S10 Plus |
| --- | --- | --- | --- |
| Colors | Prism White, Prism Black, Prism Green, Prism Blue, Canary Yellow and Flamingo Pink | Prism White, Prism Black, Prism Green, Prism Blue, Canary Yellow and Flamingo Pink | Prism White, Prism Black, Prism Green, Prism Blue, Canary Yellow, Flamingo Pink, Ceramic Black and Ceramic White |
| Processor | Snapdragon 855 / Exynos | Snapdragon 855 / Exynos | Snapdragon 855 / Exynos |
| Display | 5.8" Super AMOLED, flat | 6.1" Super AMOLED, curved | 6.4" Super AMOLED, curved |
| Memory | 6/128GB, 8/256GB + microSD | 8/128GB, 8/512GB + microSD | 8/128GB, 8/512GB, 12GB/1TB + microSD |
| Rear Cameras | Dual camera: Regular, Ultra Wide | Triple camera: Regular, Ultra Wide, Telephoto | Triple camera: Regular, Ultra Wide, Telephoto |
| Front Cameras | Single camera | Single camera | Dual camera |
| Battery | 3,100 mAh | 3,400 mAh | 4,100 mAh |
| Security | Fingerprint on the side, embedded in power button; Face unlock | In-screen fingerprint; Face unlock | In-screen fingerprint; Face unlock |
| Price | from $749.99 | from $899.99 | from $999.99 |
Samsung Galaxy S10e missing features
Naturally, some corners were cut to bring the S10e's price down. While, at its core, it's as powerful of a Samsung flagship as the regular S10 models and it even gets the Tuned by AKG stereo speakers. But the light edition will miss out on a few features. Here they are:
screen not curved towards the sides
smallest screen
no ultrasonic fingerprint sensor (regular sensor on the side of the S10e)
no telephoto lens camera (only 12 MP regular and 16 MP ultra-wide-angle)
base version has 6 GB of RAM vs 8 GB on the S10
S10e maxes out at 256 GB of storage vs 512 GB on the S10
Size comparison between the S10 line and its competitors
We saw how the new phone stack against each other, but now it's time to look at how they match against some of the phones they will likely fight against on the market. Of course, we can't fit them all here, so if you have another model you want to compare to, you can always use our handy size comparison tool.
Let's begin with the standard Galaxy S10 and some of its rivals.
As we can see, the S10 has gained a couple of millimeters in height, compared to its predecessor, but has lost a bit of its thickness in the process, bringing it closer to the iPhone XS in that regard. The OnePlus 6T is representing a more common display size for smartphones today and is looming over the rest of the lineup, meaning the S10 can still be considered on the smaller side.
Next up, time to line up the Galaxy S10+ and a few of his massive counterparts:
In this category, things seem to be a lot more universal. In terms of height, all four phones are within just half a millimeter, and the width is very similar as well, but on thinner than the Galaxy S9+. Luckily, smartphone size inflation didn't hit the Galaxy S line.
Now let's check the Galaxy S10e and its affordable mates.
As this comparison clearly shows, we haven't been calling the S10e all sorts of variations of "compact" for nothing. The device is full 3mm shorter than the Pixel 3, one of the smallest flagships around, while maintaining the same thickness and width. Considering that the display of the Galaxy S10e goes from edge to edge, it will surely be the preferred device by those who opt to use a small form-factor device.
Which Galaxy S10 model is the one for you?
Now that you're familiar with all the bells and whistles of the four new Samsung Galaxy smartphones, it's time to tell us which one of them is your favorite! There are enough differences between the bunch to make the decision hard and we can't wait to see which model sits best with our readers. Vote for your favorite below!