Samsung Galaxy S III coming to Boost Mobile June 12th for $399.99
3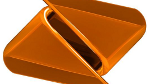 Back toward the end of last month, we told you that
Boost Mobile was going to offer the Samsung Galaxy S III
. But at the time, we had no pricing information, nor did we know the date of availability. Now, the pre-paid carrier has announced that it will offer the one-time Android flagship model for $399.99
starting on June 12th
. The unit offers 4G LTE connectivity which Boost has in 88 markets.
There's nothing wrong with the
Samsung Galaxy S III
, which can still hold its own against some of today's young whipper snappers. Samsung has already said that many of the features on the
Samsung Galaxy S4
will be made available for its predecessor
. The phone will be available to use on the pre-paid carrier's shrinking payment plan which starts at $55. For that price you get unlimited talk, text, picture messaging and web. Every 6 on-line payments cuts your bill by $5. The most you can shrink your bill is by $15 to a rate of $40 per month.
Now that Boost has released this information, we are awaiting pricing information and an exact launch date from Virgin Mobil. This pre-paid carrier is also expected to launch the Samsung Galaxy S III some time this month.
source: BoostMobile via
AndridCommunity
Recommended Stories