Samsung Galaxy Player 4.0 and 5.0 Hands-on
28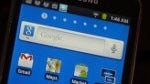 At a very short event held today in New York City, Samsung lifted the veil of its two premium entertainment devices that offer all the functionality of Samsung's line of Galaxy devices, but without the need of cellular connectivity. Enter
the Samsung Galaxy Player 4.0 and 5.0
, which are Galaxy branded devices that offer the convenience of Wi-Fi connectivity only – while still priced competitively to keep your wallets stuffed.
Checking out the Samsung Galaxy Player 4.0, it definitely looks and feels much like the original Galaxy S device with its overall appearance and choice of material. Constructed out of plastic (of course), it's definitely a
lightweight and form fitting
device that doesn't seem to be too cumbersome to hold – plus, the chrome trim adds a dash of elegance to its looks. In terms of hardware, it features a 4" WVGA Super Clear LCD display, 3.2-megapixel rear camera, VGA front-facing camera, 8GB of internal storage, microSD card slot, Bluetooth 3.0, Wi-Fi, and a 1,200 mAh battery. Initially, we were told that it features a dual-core processor, but it's not explicitly stated in Samsung's press release as to what's running under the hood. Meanwhile, it's running Samsung's TouchWiz UI on top of
Android 2.3.5 Gingerbread
.
If 4-inches isn't enough for you, then you might want to consider checking out the significantly larger Samsung Galaxy Player 5.0 – with its massive 5" WVGA LCD display. Indeed, it's gargantuan in size for anyone to wield, especially with its wide body, it's still relatively thin at
0.46"
all around. Again, it's typical Samsung with its glossy plastic casing, which contributes to its relatively low weight. Everything else is pretty much the same with the exception that it's sporting an LED flash in the rear to accompany its 3.2-megapixel camera and a larger 2,500 mAh battery.
Thankfully, both are expected to land on
October 16th
with the Player 4.0 and 5.0 priced at
$229 and $269
respectively. Come to think about it, that's reasonable seeing that fully equipped Galaxy smartphones are priced exorbitantly out-of-pocket at the $400 and up mark. Therefore, if you really love Samsung's line of Galaxy devices and don't need the cellular connectivity, then you might want to consider checking out these bad boys.