Samsung Galaxy Note III front glass panel leaks out again
38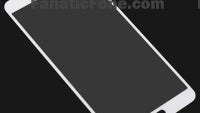 The
Samsung Galaxy Note III
is a closely guarded secret - we've only heard speculations, but Samsung has managed to keep it out of the public eye nearly all the way until the official September 4 unveiling. Now, however, we get a rare leak showing once again the Note III's front panel from all angles and in a lot of detail.
Yesterday, we first saw more detailed
pictures of the Galaxy Note III front panel
and now more of them showing the white one appear, giving us even more certainty we are indeed looking at the 5.7-inch screen of the upcoming third generation Samsung phablet.
There's nothing to be all that surprised about. The Galaxy Note III looks like the S4 in a way, less rounded and more square-ish form compared to the previous Note II, and if we were to judge by the front panel it's all plastic again. Brace yourselves - Samsung is allegedly planning to start making aluminum devices in 2014.
Components of the Samsung Galaxy Note III in particular have now surfaced in black and white, and rumors are also suggesting a third color is in tow. Could it be gold? There's no information on this whatsoever, and it seems a bit unlikely for a Samsung device.
The
Galaxy Note III is rumored
to feature a 5.7" 1080p display, a Snapdragon 800 or Exynos 5 Octa chip depending on the market, possibly a 13-megapixel camera but without the optical image stabilization. Let's see if all this materializes on September 4th.
source:
FanaticFone