Samsung Galaxy Note 3's 5.7-inch screen leaks in high-res photos
99+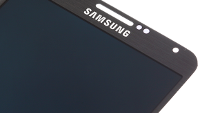 UPDATE: We've added two snaps comparing the Samsung Galaxy Note 3 with its predecessor, the Galaxy Note 2.
Nobody can deny that Samsung'sGalaxy Note 3 has received its fair share of coverage, eventhough, as far as the South Korean company is concerned, keepingthings a surprise would have been preferable. Unfortunately forSamsung, it would appear that secrecy has become an increasinglyelusive target these days.
With IFA 2013 just around thecorner, leaks are becoming more and more informative in their natureand appeal, but one thing has been missing. Namely, while we thinkwe know plenty about the Samsung Galaxy Note 3, the looks of thedevice itself have been the one area where Samsung has managed tokeep the lid firmly shut – prototype devices have been plentiful,but we haven't seen the actual device just yet. Today, this haschanged at least partially, for a new set of images, sourced fromsomewhere within Samsung's supply chain in China, we suppose, claimto be showing us the screen that will come packed in the fullyassembled Galaxy Note 3.
Looking at thescreen, we're happy to report that the bezels have shrunkenconsiderably in size from all directions in comparison with theSamsung Galaxy Note 3's predecessor. What's more, while we can't tellexactly how the device will end up looking with the frames attached,it does seem like the Note 3 will be more rectangular in shape, withless pronounced rounding at the corners. Of course, this is stillevery bit the Galaxy design language that we've come to expect fromSammy.
Obviously, asplausible as these may look, we'd suggest you hold on just a little longerbefore jumping to any conclusions.
source: ETradeSupply