Samsung Galaxy Note 2 saves cop's life; officer to receive free Samsung Galaxy S6
81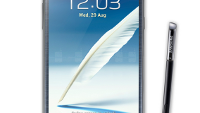 A police sergeant senior major who life was saved by his
Samsung Galaxy Note 2
, will receive a free
Samsung Galaxy S6
from Samsung Thailand to replace the damaged handset. Pol Maj Gen Sophon Thonglorm was shot on Monday, but the bullet was intercepted by the Galaxy Note 2 that the officer carried on the left side of his waist.
The bullet penetrated the phone and hit Thomglorm in the side. However, the Galaxy Note 2 slowed down the bullet's velocity so much that the resulting wound was not life threatening. The handset didn't make it, however, and succumbed to its injuries.
The story went viral and reached Samsung Thailand. The company offered the officer a new Samsung Galaxy S6, and included traveling expenses so that the officer could make the trip to Bangkok to pick up the device. The officer's friends say that we was saved by the "
Luangpor Samsung
." The term "Luangpor" refers to a sacred amulet.
"I accepted the offer. I'll go to Bangkok to get it. I am very happy. I survived and Samsung attached importance to this. I am happy that Samsung will give me a new phone. I've shared this good news with my wife. Normally, I carry my phone at the left waist. It was my luck that the bullet happened to hit the phone. I fell down and shot back at the guy."-Pol Maj Gen Sophon Thonglorm
Thanks for the tip!
source:
ThaiVisa